Editors' Note
Issue 20: Language, Ants, and Julian of Norwich
We at The Behemoth use not only images and design, but also language to communicate the wonder of God and his world. And yet, language itself is a wonder of creation, both God's and ours. That's the theme of the opening piece in this, the 20th issue of The Behemoth.
Language is not just a gift, but a blessing. As Dylan Demarsico notes, God uses extraordinary words during sadly extraordinary times to bring us the miracle of hope.
Our science offering this issue looks at tiny creatures who perform herculean feats—leafcutter ants. Ants have a lot to teach us besides the biblical warning about sloth. For one, by themselves ants could accomplish little to nothing, but working together they create wonders of nature.
Both God's and humanity's creativity are on display in our poem, which focuses on man's first vocation with language: naming.
All in all, another wonder-filled issue to enjoy!
—Mark Galli, co-editor
The Behemoth is a small magazine about a big God and his big world. From the editors of Christianity Today, these articles aim to help people behold the glory of God all around them, in the worlds of science, history, theology, medicine, sociology, Bible, and personal narrative.
Get full access to The Behemoth archives on any device when you subscribe to Christianity Today.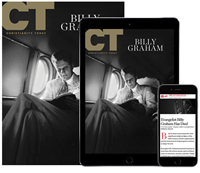 Unlock This Article for a Friend
To unlock this article for your friends, use any of the social share buttons on our site, or simply copy the link below.