Editor's Note
Issue 36: What smells so good, the other First Thanksgiving, and birds that gather to remember. / Ted Olsen
If you live in the United States, you may sense a theme in this issue. You might read our articles on the [Pilgrims], a [feasting bird], and the [smells of home] and think, "Ah! It's The Behemoth's Thanksgiving holiday issue!"
If you're one of our surprisingly numerous non-American readers (as the programmers say, "Hello, world!"), you might also sense a theme in this issue. You might read our articles on [birds remembering], [how the sense of smell is tied to memory], and [competing views of the "First" Thanksgiving] and think, "Ah! It's The Behemoth's memory issue!"
Perhaps you're not the type who draws constellations. You just like to read the pieces and enjoy them each on their own merits. Works for us: We don't really try to make thematic issues. We just like it when it turns out that way.
However you read this issue, I hope it encourages you both to remember and to be thankful.
The Behemoth is a small magazine about a big God and his big world. From the editors of Christianity Today, these articles aim to help people behold the glory of God all around them, in the worlds of science, history, theology, medicine, sociology, Bible, and personal narrative.
Get full access to The Behemoth archives on any device when you subscribe to Christianity Today.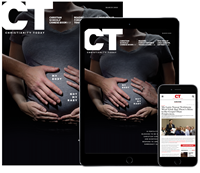 Unlock This Article for a Friend
To unlock this article for your friends, use any of the social share buttons on our site, or simply copy the link below.