true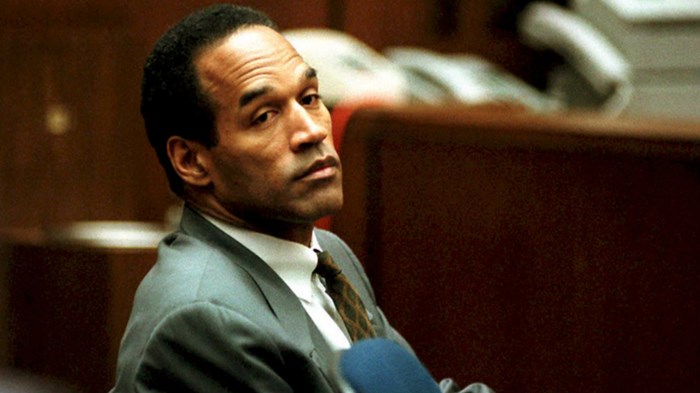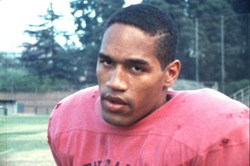 Image: ESPN
The trial of O.J. Simpson, American hero (and, later, American punchline), dominated television for almost a year in the mid-1990s. It's probably the most-publicized court case in American history. You couldn't get away from it. Everybody had an opinion. The trial ended in October 1995, just over 20 years ago.
Could anyone have predicted we'd still be talking about it?
If you noticed increased social media chatter about O.J.: Made in America this week and thought, didn't that come out a few months ago?—you haven't gone nuts. This weekend, an ESPN documentary about the football star will be released in select theaters (to qualify it for Oscar consideration). In a few weeks, on June 11, it will premiere on ABC before moving to ESPN.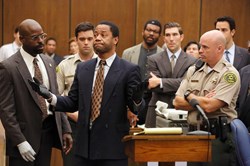 Image: FX
But you were thinking of the FX miniseries The People v. O.J. Simpson: American Crime Story, which just wrapped up in early April. Both series are long—ten hours for the FX show, nearly eight for the ESPN series—but whereas Made in America is a documentary, People v. O.J. cast actors as the various players in the drama, freshly re-treading a familiar story.
People v. O.J. re-enacts the "trial of the century"; Made in America fills in the backstory, reaching back into the 1960s and tracing the rise and eventual plummet of an erstwhile American hero. It fills in aspects of the case the FX series could only gesture at, matters of race, class, education, identity, the cult of celebrity, and a lot more that seems just as important in 2016 as it did them—including, unbelievably, actual Kardashians.
I watched People v. O.J. as it was airing, and discovered that to talk about the Simpson trial is to date oneself, no matter who you are. I was in middle school when the nation was glued to the case, so I have vague memories of it—mostly adults complaining about its ubiquity. Many of my friends have a few years on me and remember it much more clearly. Others, those born in the 1990s, have no idea. To them, an O.J. Simpson reference is a clever way to end a joke.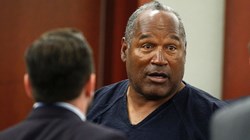 Image: ESPN
That makes Made in America is essential viewing, whether or not you've seen People v. O.J., though the two inform one another. Only the third and fourth episodes cover the actual court case; the others trace the cultural climate in which Simpson came up as a black man, a football player, and a celebrity in a time when black men and athletes weren't sought out for endorsements. Simpson's life, once he broke onto the college football scene, was deeply documented on camera, and there are hours and hours of footage of him talking on camera as his celebrity grew. There's video and audio providing deep context on racial strife in Los Angeles and the corruption of the LAPD. There are photos of him and his first wife, Marguerite, and then his second wife, Nicole—and, later, images of her after being battered. There are recordings of phone calls. There are images of Nicole's diaries. There is less O.J. than you might expect, but there's context. Lots of context.
That's important.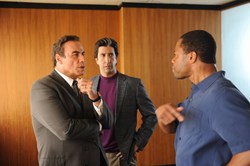 Image: FX
That both People v. O.J. and Made in America were in production at the time is pure serendipity—insofar as they weren't planned to complement one another. But in hindsight it seems like the most obvious thing in the world. Critics note that the nation seems awfully interested in "true crime" stories right now—a genre that cycles around every so often, the most recent iteration including the Serial podcast, HBO's The Jinx, Netflix's Making a Murderer, and now the two O.J.s.
You hear "true crime" and think of sordid interest in sensational, shocking events—murders and kidnappings and the twisted ways humans treat each other, a type of entertainment that proliferated decades and even centuries ago. The newest crop of true crime nods to these tendencies, of course. Networks need their ratings.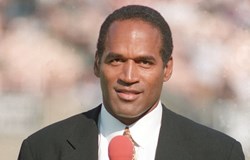 Image: ESPN
But our latest batch of true crime "entertainment" distinguishes itself from many of its years-ago predecessors in this way: it's less interested in the details of the crime itself and more in the culture that grew them and absorbed the fallout. Serial was last year's biggest example, but both Made in America and People v. O.J. are the peak. It's right in the subtitles—O.J. Simpson's celebrity and subsequent trial were homegrown, an American crime story. The unique cocktail of racial tension, police controversy, and reality-TV precursors seem only possible in a country where ratings increasingly drive journalism, where celebrity trumps safety for pro athletes, where ignoring recent historical injustice on the basis of race and class is painted as somehow prudent.
The trial figures largely into both of these, but the crime itself appears only insofar as it sets up the real plot: how the O.J. Simpson trial could even have happened, and how it could possibly have ended the way it does. Neither give easy answers. Instead, both series choose to focus on how this happened, and what happened afterward. They avoid exploiting the story for entertainment value (though the sheer how is this even true? factor is very high) and instead opt for entertainment-as-cultural-criticism, compellingly watchable TV that leaves you feeling like something is unsettlingly wrong. People v. O.J. ends shortly after the trial with an intimation of things to come. The final episode of Made in America traces O.J.'s own dark path to today—a heartbreaking, haunting story on its own, nearly apocalyptic, a tale that seems newly important in the age of Bill Cosby and Woody Allen.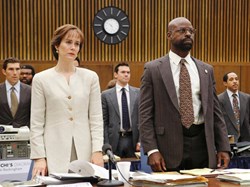 Image: FX
That TV has produced eighteen hours worth of compelling TV about a decades-old, ultra-famous court case is worth noting. Historically, the genre of "true crime" has been of dubious worth—but these stories from our recent history are worth re-treading, if only because the most American of all pathologies is the tendency to forget history, making us think every new political and social conflict is unprecedented, distorting our view of our own place in history.
If those who forget history are doomed to repeat it, then we need shows like The People v. O.J. Simpson and O.J.: Made in America. They remind us that we've been here before. They are vital to our survival.
As the wisest man once wrote: "There is nothing new under the sun."
Alissa Wilkinson is Christianity Today's critic at large and an assistant professor of English and humanities at The King's College in New York City. She is co-author, with Robert Joustra, ofHow to Survive the Apocalypse: Zombies, Cylons, Faith, and Politics at the End of the World(Eerdmans). She tweets @alissamarie.