Refugees Are People—Not Numbers
Bianca Juarez Olthoff on how we can respond to the global crisis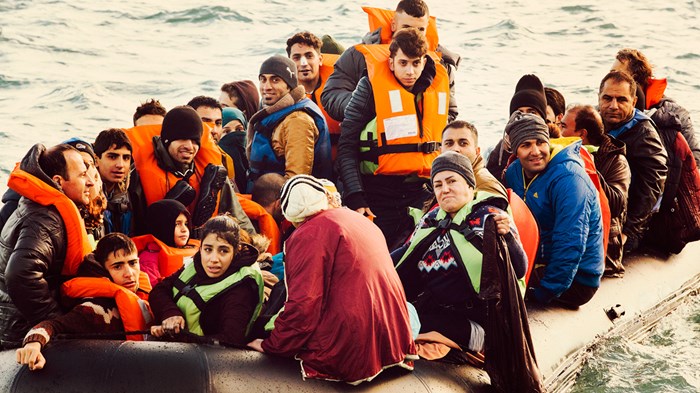 Image: COURTESY OF A21
The Syrian refugee crisis is a problem of enormous proportions with more than 4.5 million Syrians now in North Africa, Lebanon, Greece, and Europe. Along with Syrians, refugees from other conflict-torn parts of the world are risking life and limb to seek new homes in the European Union. A21—a ministry focused on addressing human trafficking—is one of many Christian organizations who are responding. We recently spoke with Bianca Juarez Olthoff, A21's Chief Storyteller and a TCW advisor, about the refugee crisis and what TCW readers can do to help.
You recently spent time at an A21 aftercare location in Greece. What was that experience like?
Even though I've traveled to many impoverished areas in my life, I don't think I really knew how severe this problem is. We all tend to suffer from compassion fatigue. We're assaulted every single day with news of tragic, horrible things—like the bombing in Paris or thousands of children dying from poverty or the violence of the LRA [Lord's Resistance Army] in Africa. When we're constantly hearing all of these negative things, news of the current refugee crisis can seem like just one more thing. But having the opportunity to see and hear and smell and touch the real people involved in this crisis was a game changer for me.
Yes, this is the largest migration of people since World War II, but these are not just statistics. These are people. They are mothers, fathers, teenagers, grandparents, and children who are fleeing for their lives. They're fleeing for hope—the hope of freedom and the hope of simply living their lives. We need to put a name, a face, a story to the statistics.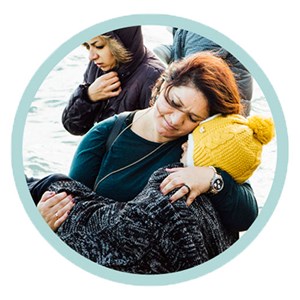 What's one face, one story, that stands out to you from your recent time ministering to refugees in Greece?
One family we encountered was just heartbreaking to me. It was a mother who was traveling with her three children, and her youngest child, who was less than a year and a half old, had cancer. This mother was so desperate that she was making a trek across oceans and then by bus and by train and by foot, through freezing temperatures at night. Most of the people there had no shelter, no sleeping bags, nothing to keep warm. So we saw this mother cradling her baby—and, thankfully, we were able to give her a jacket and hat for her baby, jackets for her kids, and a blanket for her. It really puts things into perspective when we consider the love that would compel a mother with a child in that condition to endure so much, all to try to build a better life for her family.
A21 is partnering with the UN to help refugees. What specifically is A21 doing?
Greece is, for many refugees, the first point of entry into the European Union. When we went to one of the main entry points—which is less than an hour from A21's office—it was just an open field with trash on the ground and completely unsanitary conditions. So one of the first things we did was lay gravel that could serve as a foundation for a medical tent, a water tent, and a clothing tent.
An ongoing need we saw right away was that there was no place to wash up—to wash hands, to wash clothes, to get clean water. So we decided to retrofit a shipping container and transform it into a clean water station. Ironically shipping containers are often used in human trafficking—in fact, one of A21's first survivors of trafficking was brought over from Africa in a shipping container! So using shipping containers to minister to refugees is a powerful symbol of redemption for us.
Now, in partnership with the UN, we have five mobile water stations set up at various locations around Greece, and the UN has commissioned us to retrofit more for additional refugee entry points into the EU. This is a very tangible way to give help to people. Jesus said that he is the living water—so it means so much that we get to provide water to refugees in the hope that it will also help satiate that deep soul-need for true living water.
Refugees and immigrants are some of the most vulnerable people. So we aren't just trying to provide jackets, food, water, or help for medical needs, but we're also educating them about the dangers of human trafficking. In fact, we've already facilitating two rescues from human trafficking among refugees at the border.
How can Scripture inform our response to this crisis?
Jesus whittled it down for us: Love the Lord your God with all your heart, soul, mind, and strength, and love your neighbor as yourself. We need to pull back the things that blind us to this reality—we need to pull back skin color, belief systems, social status, and ethnic lines that divide us. We need to see these refugees as our brothers and our sisters and understand that we have a mandate to be the hands and feet of Jesus.
I don't mean to oversimplify things because, certainly, this is a massive and complicated problem. But if our commission is to be known by our love, how is it that we see the church responding to this issue? For some, the response is a sense of overwhelming dread of an influx of immigrants. Others really don't care because it is happening far away. Some simply feel helpless. Some even respond with rage that Christians are helping.
But consider: If this were your cousin or your mother or your child, would you respond differently? What would this conversation look like if we treated these people like our family? That is the lens we must use because according to the Bible, they are.
We have an opportunity to be the hands and feet of Jesus. When refugees cross the border, we want them to know it was Christians who gave them water and it was Christians who gave them jackets. We want them to know that Christians cared about them.
This is also personal for you, isn't it?
This issue affects me deeply because I am a first-generation American. My parents were not refugees—they were immigrants. But I'm so grateful for the sacrifices my own parents and grandparents made so that now I get to live in the United States. When I looked into the faces of the refugee children coming through the border and then I looked at the parents, I thought: You are sacrificing so much.
What can we do to translate compassion into action that will help with this crisis?
Sometimes this is the last thing we think about, but really the first thing is to turn to the power of prayer. When we pray for the refugee crisis don't need to just pray that the situation will change, we can also pray that the Lord would change our hearts. The Holy Spirit can prick our hearts to care. Giving money is great, but perhaps God is prompting something more, like fasting or actively partnering with organizations on the ground helping refugees. Or what if God is prompting you to work with a local agency that aids refugees here in the United States and help them in tangible ways? God may not be calling you to go to the Greek border or to Syria. He may be calling you to consider who you can love like Christ right in your own community.