My Upcoming Book: A Good and Perfect Gift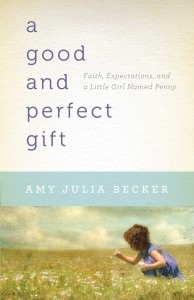 I've been working for years now on a memoir about the first few years of Penny's life, and I'm excited to announce that it will be available in just a few months. For more information, visit my page at Baker Books. In a few weeks, I will direct you to a page on my website with a sneak preview of some portions of the book. For now, I wanted to share the cover and a few endorsements:
Amy Julia Becker makes herself vulnerable to enlighten us, not just about Down syndrome, but about the intrinsic gifts of life. Amy Julia's daughter Penny is the pure heart by which many assumptions are exposed. This book is a must-read, and not just for families and friends of children with Down syndrome.
– Sara Groves, singer and songwriter
Amy Julia Becker has the courage and grace to tell the truth. Whether you are a parent or not, whether the children in your life are "typical" or not, her story will shake you, change you, and encourage you. In a world obsessed with achievement and perfection, A Good and Perfect Gift opens the door to a much more excellent way.
– Andy Crouch, Author, Culture Making
It takes faith to turn an unmet expectation into something delightfully exceptional, and Amy Julia Becker learned to do just that when Penny was born. Poignant and powerful, the world needs more stories of inspiration like this one!
– Joni Eareckson Tada, Joni And Friends International Disability Center
This excellent and moving book about Penny as a wonderful gift should be read not just by parents of people with disabilities but by all of us who should discover the beauty of those who are different.
– Jean Vanier, author, founder L'Arche
It has been said there are places in our heart we do not even know until the heart is broken. A Good and Perfect Gift is the moving story of how Amy Julia Becker and her husband found their hearts broken - broken open, wide and deep - through the arrival of their very special child. There is beauty here - in the writing, in the story, told with deep feeling and faith but not sentimentality. I recommend this book highly, not only to parents with a special child, but to all who seek to discern what God gives us through some of our most painful times.
– Leighton Ford, author, The Attentive Life
Do not be fooled. This is not a typical book about disabilities, sorrow and triumph. This is a book about a mother who loves her daughter. "I needed to see her as our little girl, not as a diagnosis, not as an obstacle to overcome." This is among the best books I have read about the true power of the powerless.
– Christopher de Vinck, author, The Power of the Powerless
A forthright account of a how a mother used her religious faith to come to terms of adjustment, acceptance, and love for having a child with Down syndrome.
– Dr. Carl Pickhardt, psychologist, author, child development expert
Amy Julia's rare gift with words-descriptive, vulnerable, penetrating- bring to life a message of joyful contentment inspired by her daughter Penny.
– Susan Alexander Yates, author and speaker
Support our work. Subscribe to CT and get one year free.
To add a comment you need to be a registered user or Christianity Today subscriber.
Recent Posts
My Upcoming Book: A Good and Perfect Gift