Perfectly Human: Harm and Healing by Jill Miller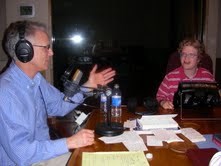 Last month my husband Paul and I went to Israel to celebrate our 40th anniversary. One of the places that we visited was Bethesda. Unearthed pools with high Greek columns, wide steps and stoned walkways leading to smaller pools were before us. For many years I had imagined taking Kim, my daughter, to this place, so Jesus could touch her and heal her totally. The sun was beginning to get lower in the sky and the group we had come with were anxious to get back on the bus to head toward our hotel… I lingered…
"After this there was a festival of the Jews, and Jesus went up to Jerusalem. Now in Jerusalem by the Sheep Gate there is a pool called in Hebrew Bethesda, which has five porticoes  In these lay many invalids:  blind, lame and paralyzed. One man was there who had been ill for thirty-eight years.
When Jesus saw him lying there and knew that he had been there a long time, he said to him, "Do you want to be made well?" The sick man answered him: "Sir, I have no one to put me into the pool when the water is stirred up; and while I am making my way, someone else steps down ahead of me."
Jesus said to him "Stand up, take your mat and walk." At once the man was made well, and he took up his mat and began to walk." John 5:1-9
One of the things that I love about this passage is that Jesus knows how long… he knows the years… he knows the times of rejoicing… and he knows the longing… Jesus KNOWS about this man. Jesus knows about Kim. Jesus knows about me. Jesus loved this man. Jesus loves Kim. Jesus loves me.
If we had lived during the time of Christ, I would have taken Kim anywhere for Jesus to heal her—Anywhere! Lord knows I took her to a lot of people who claimed they could heal her. But Jesus said, "Jill, trust me." That was hard to do. I would visualize taking Kim up a set of five steps and leaving her at the top step right under the cross with Jesus above her. I had to "leave Kim with Jesus." But some days, even after three minutes, I would be back at the top step grabbing Kim up and taking her back down with me. There were days that I would be up and down those steps fifty times!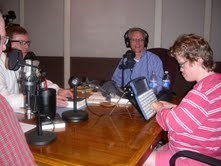 Slowly but surely I learned. I learned to be still. I had much more learning to do than Kim. Kim has been an incredible gift to our family.Kim is now 29. She is an amazing woman. She has a wonderful sense of humor, loves Jesus, prays faithfully and lives fully. Kim cannot speak, but she communicates very clearly. Just last year Paul and Kim went to Family Life Today's radio program with Dennis Rainey. Kim spoke, using her augmentative communication device, to an audience of a million and a half people.
One day, after I had gotten Kim ready for her bus to take her to junior high school, I took our dogs for a walk. I began rehashing something with God.  You see, every time I was pregnant (we have six altogether), I would ask God to give me a verse to claim for the child I was carrying. The verse God laid on my heart for Kim was "then no harm will befall you, no disaster will come near your tent" (Psalm 91:10). This verse continued to bug me… Harm had come. Quiet tears ran down my face, even after all these years. In the beauty of that morning, I heard God tell me, "What you meant for Kim, I meant for your entire family." God used Kim to save me and my family.
God took Kim's suffering to bring me to a new place of 'His will and not mine,' from worry to trust, anxiety to peace, wrestling to quietness, harshness to gentleness, control to surrender, perfection to messiness, and demanding to submitting.
Then as I was being s l o w l y changed God began his work in the other kids. They saw Kim's daily struggles, and then how they 'looked' just didn't matter as much. They began to seek out the weaker kids in their classroom and playgrounds. One day all eight of us marched into McDonalds. Kim was walking with her large augmentative device around her shoulder.  Andrew happened to be around nine at this point. We were all in a line and Kim was having her daily meltdown. Andrew started turning around, looking at who was staring at us. John, 14 years old, said, "Andrew, don't even try to be cool with Kim. It just doesn't work."
But in God's time and in his way he made beauty from ashes. Courtney, our oldest, loves Jesus and for a time went to Bangladesh to serve him there… Ashley loves Jesus and became a special ed teacher… John loves Jesus and uses his gifts of art for 'his glory'… Andrew loves Jesus and is a teacher at Milton Hershey School… Emily loves Jesus and is finishing school to be a nurse… all of this is how God, in his amazing mercy, used Kim in each of our lives. Oh, and Paul, my husband… Kim went before him as well, showing her daddy the face of Jesus, and now Paul is sharing that in the books he has written on Jesus and praying.
One day, when Kim was in fifth grade, she was in a music class.  It was Christmas time and the class was listening to the Hallelujah Chorus. Kim signed something to her interpreter, Saralynne. Saralynne began to cry.  The teacher asked Saralynne what Kim had said to her. Saralynne replied, "Kim signed, 'When I am in heaven I'll sound like that.'"
As I looked around at the Bethesda pools I thought how "rich" I am.  What a shepherd we have. His ways are perfect and every word of His proves true.
Support our work. Subscribe to CT and get one year free.
To add a comment you need to be a registered user or Christianity Today subscriber.
Recent Posts
Perfectly Human: Harm and Healing by Jill Miller