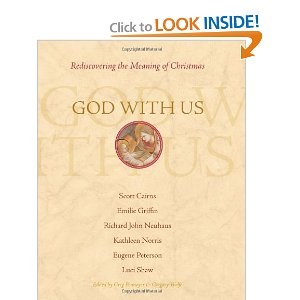 Maybe next year I will remember ahead of time to recommend the book I use every Advent: God With Us: Rediscovering the Meaning of Christmas. It's a beautiful set of daily readings from Scripture combined with color prints of paintings from throughout the ages that correspond with the days' reading. Each week includes daily reflections by some of my favorite Christian writers and thinkers–Scott Cairns, Kathleen Norris, Richard John Neuhaus, Luci Shaw, Emilie Griffin, and a wonderful introduction by Eugene Peterson. So even if you're late, you might as well buy it (only $11.98 on Amazon, and this is a beautiful book) and use it for the next few weeks.
You'll read about the history of Christmas (I forgot that Saint Nicholas was actually a Saint, for instance) and get little nuggets of wisdom that might help in the hustle and bustle and commercial transactions of the next few week. I'll offer one of those to conclude for today:
Christmas is the giving and receiving of gifts. What a joy. What a hassle. What gifts to give to whom? What gifts to expect in return? The hassle surrenders to gratitude as we, setting aside all calculations of who deserves what, respond by giving as we have been given.

Richard John Neuhaus
Trying to surrender to gratitude this day, as we get ready to celebrate Jesus' entrance into our world once more.
Support our work. Subscribe to CT and get one year free.
To add a comment you need to be a registered user or Christianity Today subscriber.
Recent Posts
Advent Reflections