Eat, Drink, and Be Merry, for Jesus Is Born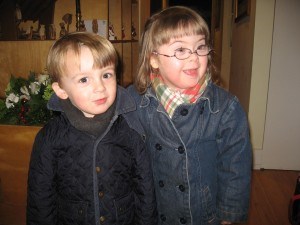 For a few years now, I've talked about "American Christmas" and "Christian Christmas," and I've decided that as a family we observe both. For American Christmas we sing songs about Santa and decorate the living room. For Christian Christmas we have a Birthday Party for Jesus and a manger scene. But recently I've realized that the materialism of Christmas is, ironically, both not-at-all Christian– in the careless spending and disregard for the spiritual overtones of the season– and yet that same materialism is also incredibly Christian. Christianity is not an other-worldly religion, but one rooted in material reality from start to finish, especially, as it happens, in the Incarnation of Christ, the very moment that Spirit became flesh.
I read an essay in USA Today a few weeks back, "Let's Put 'Christ-mas' in its Place" in which Amy Sullivan argues that we should take Christ out of Christmas:
I know what you're thinking: What about "the reason for the season"? But that's precisely my point. Do Christians really want to think of the son of God as the reason for reduced-price waffle-makers and winter wonderland scenes at the local mall? That sounds like Ricky Bobby's baby Jesus from the movie Talladega Nights, not the babe whose arrival is heralded in the Gospel of Luke. The battle for the soul of Christmas ended a long time ago, and cultural forces won. That's clear when Christmas trees fill homes and apartments in Japan, a country where 2% of the population is Christian.
I used to agree with her. I remember sitting in church on Christmas Eve and asking my mother why the couple behind us was so loud ("They've had a little too much to drink, sweetie.") Or trying to figure out how buying a sweater to my sister has anything to do with the God of Heaven becoming God with Us. Or trying to explain to my children how Jesus' birthday connects to mistletoe, eggnog, molasses spice cookies, and stockings.
But now I'm wondering, should Christians be heading up the line and proclaiming the ways in which Christmas, in all its over-the-top spending and Santa suits and festivities. is as Christian as it gets? I wrote an essay for Motherlode of the New York Times last year, A Spiritual Defense of Gifts, in which I argued:
At Christmastime, materialism should be a blessing.

Yes, it can be wasteful. It can become hedonistic. And yet there is a spiritual dimension to gift-giving. From a Christian perspective, giving gifts reflects the celebration of the gift of God's son on Christmas morn. Moreover, it reflects the idea that God has entered into the material world, and through that entrance, God has declared that the material world is good and worth celebrating, if not in excess then at least through extravagant generosity.
This year, I'm taking the sentiment even further. Instead approaching the season with reticence, Christians above all have reason to buy presents. To celebrate. To enjoy the family time and the good food and the proclamation that God has demonstrated love beyond love by entering our world in the form of a baby. So if you are a Christian celebrating Christmas–hang those lights and sing Hallelujah. Eat, drink, and be merry, for Jesus is born.
Support our work. Subscribe to CT and get one year free.
To add a comment you need to be a registered user or Christianity Today subscriber.
Recent Posts
Eat, Drink, and Be Merry, for Jesus Is Born