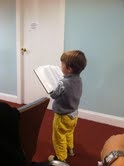 One of the wonders of the Christmas season is the opportunity to teach our kids the Christmas story. We've used a sticker-based Advent calendar this December, in which readings from the Bible correspond to a little poem and a sticker. Penny remembers the details from years past, but to William, it's new–the shepherds, the wise men, the donkey, the angel, the star, and even Mary and Joseph and baby Jesus. For weeks now, he's played with our nativity scene–a set of relatively indestructible and unattractive crocheted dolls. William also attended three sets of lessons and carols (note the picture–that's him standing in the aisle with a Bible open to imitate the choir's books of music), and he has asked each night for a "Christmas church song" as a lullaby.
On Christmas Eve, Penny helped me read a child's version of the story–she can sight read "baby Jesus" and "Christmas" and a host of other words, so together we narrated as William placed each of the characters on a table for the rest of the relatives to see. An angel, then Mary, Joseph, donkey. The animals, the manger, the baby Jesus. The shepherds. At the very end, as Penny and I read about the wise men, William lay two large American girl dolls on top of the scene. We all giggled, but then William, serious as could be, explained, "They are the presents for baby Jesus." He and Penny then led us in a rollicking rendition of Happy Birthday.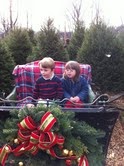 Penny focused on the words and William the wise men, but my attention this season has lay with Joseph. I've always been impressed with Mary, with her willingness to question the angel, what I imagine as her quiet but firm combination of doubt and faith, her acceptance of God's will for her life, even if that meant public disgrace and abandonment. But I was struck this year by the fact that before Joseph had any inclination that Mary's pregnancy was caused by God he "had in mind to divorce her quietly." For all he knew, his new bride had cheated on him (or, I suppose, had been raped). Regardless, she had violated his honor. We know very little about Joseph but his character comes forth in that he wanted to treat Mary as well as he possibly could, even before an angel reassured him of God's intentions for the child in her womb.
These thoughts gave me new respect for Joseph, but they also made me think that God chose Mary and Joseph as Jesus' parents precisely because of their day to day faith and faithfulness, not only in devotion to God but in kindness to one another. Joseph was already a man of integrity, and then the angel visited him. Joseph already wanted to take care of Mary, and then he discovered she was bearing the Christ-child.
I hope this Christmas leaves William with some understanding that Jesus is a gift to us, and that we give to him out of gratitude. And I hope it leaves me with some ability to follow God in the day to day, without supernatural assurances or interventions, in the decisions I make about caring for people around me and honoring them as God's beloved.
Support our work. Subscribe to CT and get one year free.
To add a comment you need to be a registered user or Christianity Today subscriber.
Recent Posts
Following God Every Day