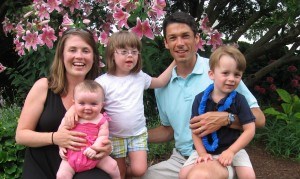 Okay, that's about the most narcissistic title for a blog post I can imagine–sorry! But some of you might have noticed that I haven't responded to any comments in the past week, and I didn't post anything on Tuesday or Wednesday. Because we took a family vacation (check back in tomorrow for some thoughts and more photos)!
I didn't even bring my computer on vacation (a victory for me–hard to resist the temptation to stay connected), but I did keep a handwritten list of dozens of posts I just might write someday...
In the meantime, I wanted to draw your attention to some very helpful comments on some of last week's posts:
Thanks to DD for explaining why the cover for A Good and Perfect Gift was the right choice:
...the second cover is much, much warmer. And the fact that the first one is reminiscent of the in-your-face, emotionally manipulative logo of an anti-abortion group is misleading in a negative way about the content of your book. It could potentially turn a whole host of people off that it is counter-productive to alienate. Also, while the black is sophisticated, it is a bit cold and suggestive of a possibly dark outcome and the fact that you only see the baby ~feet~ is not reassuring. The golden tones, the open field, the healthy little girl on the second cover are all more inviting and suggestive of a more hopeful, optimistic tale instead of a gravely serious downer.
(Ellen and Tricia, thanks for disagreeing–I'm grateful for honest opinions!)
Thanks, also, to those of you who suggested some questions for Rachel Simon. I should be talking with her next week, and I'll try to work in all your wonderful suggestions.
Support our work. Subscribe to CT and get one year free.
To add a comment you need to be a registered user or Christianity Today subscriber.
Recent Posts
Did You Miss Me?