Profound Thoughts From Children...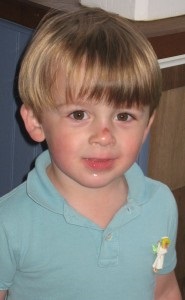 We're trying to get William to sleep in the same room as Penny so that Marilee can move into his crib and out of the bassinet and out of our room. We thought it would be pretty easy. We've been paving the way for the move with "sleepovers" for a while now. And on those nights, William lay in bed across the room from Penny, straight as a board, and went to sleep.
But when he started having sleepovers night after night after night... well, he got a little frisky.
Last night, Penny came to their door repeatedly and she eventually ended up in William's crib.
He then broke through two gates and peeked in upon our dinner. "I went upstairs to give Penny her water," he said. "She was sleeping. So I tiptoed."
"Great job, William. Now let's go to sleep."
The next time he came down he told us, "Before I gave Penny her water I pilled [aka spilled] it on the bed. Now everything is wet."
Fair enough. Comforter now draped over the railing. Comforter cover in the laundry. William in a different bed. All set.
Midnight. I wake up and hear someone talking. It's William. Peter finds him sitting up in bed, overhead light on, fan on, reading. "I'm just having a little quiet time," he explains. "And I made the butterflies move."
Half an hour later, we decided it was time for the pack and play. William nodded with approval. "I need a fence," he said.
Tonight, he came out once. He needed to poop, legitimately. He came out again. "I need pajama pants." And a third time. "I need socks." And then there was a long lull. An hour later, when we came upstairs, I poked my head in to check on them. William was lying in bed, wide awake. He had raised the window blind "for to look outside." He was lying in bed, a portrait of contentment, dressed in his Superman pajamas and two of his sister's tutus. (Note the photo, in which William has a skinned nose from throwing himself down a bouncy slide and an angel pin because he loved it.) Peter put him back in his crib.
Somehow, we'll get there. William will learn to share a room with Penny and Marilee will move upstairs and all of us will–someday, please Lord, someday–get some more sleep. In the meantime, I'm trying to remember that transition is tough, it takes a long time, and sometimes we all just need the safety and security of a fence.
I know it's high and lofty to go here, but my hope is that even as we take away the fences of pack and plays and cribs and guard rails on the bed, the fence of our love will remain. And he will feel safe. And sleep soundly.
Support our work. Subscribe to CT and get one year free.
To add a comment you need to be a registered user or Christianity Today subscriber.
Recent Posts
Profound Thoughts From Children...