The Story of Beautiful Girl: Humanity Laid Bare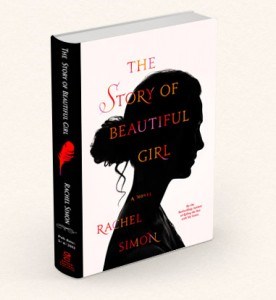 I stayed up late every night this week reading The Story of Beautiful Girl by Rachel Simon. It's no great surprise that I loved it. The plot involves Lynnie, a young white woman with an intellectual disability, and Homan, an African-American deaf man. They fall in love and run away from "the School for the Incurable and Feebleminded." Lynnie gives birth to a child and, just before being dragged back to the School, gives the child away to a kind old woman she has just met. The book traces the contours of their lives–the old woman, the baby, Lynnie, Homan, and Kate, a woman who works at the School and befriends Lynnie.
Rachel Simon grew up with a sister with an intellectual disability, and she wrote about this experience in the bestselling memoir, Riding the Bus With My Sister. Much of this novel takes place inside Lynnie's head, and as a reader I was able to see the world through different eyes. Moreover, I was able to understand Lynnie, understand why she refused to tell anyone about her baby, understand why she refused to speak.
This book is an indictment of institutional life, although Simon never stands on a soapbox. Even the most despicable characters remain human, and the potential for relationships within the School offer some redemption. Lynnie not only falls in love with Homan, but her friendship with Kate spans decades. In the book, as in life, the abuses within the School were exposed in the 1970s and Lynnie and her friends moved into group homes in the 1980s. In this sense, Simon traces the history of disability in the United States through the lens of one character.
And yet while I was reading this novel, I came across an article in the New York Times that detailed ongoing abuses in state institutions. Here again, in 2011, is the story of a young boy with autism killed by a worker. Here again are stories of incompetence, ignorance, and abuse. Simon's book is not historical fiction. It is present day reality. The Times article calls the toleration of ongoing abuse "inexplicable," but Simon's novel gives us explanations without ever offering excuses. We are all far more willing to turn our heads away from the abuse of people with disabilities than we would like to admit.
The most surprising aspect of the novel for me was the way in which Simon explored the faith life of each character. The old woman, for instance, doesn't attend church and has her doubts about God's goodness, and yet it was a passage from Matthew's gospel that provoked her to welcome Lynnie and Homan: "I was a stranger and you invited me in." Kate returns to faith and her trust in God's leading prompts some of the most important transitions within the novel. Some well-meaning strangers take Homan to a faith-healing service in which he is treated more like an object than a human being. Lynnie's parent's rabbi urges them to institutionalize her. Just as Simon complicates the picture of institutional life with stories of terror and hope, so too she creates a realistic and therefore complex faith for her characters.
Homan wonders for years whether a creator-God exists and whether that God cares, whether that God really does tell a cogent and redemptive story. I won't disclose the ending, in which Homan's questions receive a subtle answer, but I will recommend that you read this novel for a story that gives a glimpse of humanity in its basest depravity and its most glorious possibilities.
Support our work. Subscribe to CT and get one year free.
To add a comment you need to be a registered user or Christianity Today subscriber.
Recent Posts
The Story of Beautiful Girl: Humanity Laid Bare