Ballet Recitals, Carelessness, and Grace Part One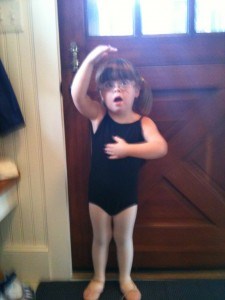 Penny started taking ballet lessons in the fall. She learned the moves and the terms to go with them—plie, bouree, releve. Throughout the year, Penny performed in countless living rooms, singing every word and dancing every step of "Magic Tutu" in preparation for the big day, her recital.
Last Friday was dress rehearsal. It was a tragedy of errors. First, I decided to let Penny ride the van home from school so we arrived at the auditorium two minutes late. Then, I allowed William to come with us. (He's watched Penny's ballet class faithfully all year. I figured he should be a part of the dress rehearsal too.) When we first walked in to the cavernous lobby, Penny froze. "I need to go potty." We rushed to the bathroom, which was filled with giggling girls getting dressed. We found an empty stall. Penny slammed her finger in the door and began to wail. As soon as she had recovered from that injury, she looked at the toilet and shook her head. "I don't want to. I don't like magic flush."
"Penny, it's not a magic flush. See the button on the wall? We just push that button. We don't have to flush it at all. It's not a magic flush." My voice grew increasingly insistent and her tears became wails. She shook her head again. I tried to force her to sit on the potty. She wrapped her arms and legs around me and cried harder.I gave up. I forced her into her costume, now twenty minutes late with a long walk back to the auditorium. William, meanwhile, was slowly accompanying us. He had a blister on his heel and he had decided he needed to walk on his tiptoes "for it can heal." I ran ahead with Penny and then realized I really couldn't allow my two-year old to find his way to the auditorium unaccompanied. We got there 27 minutes late. They were already in the middle of her song.
As we walked into the dark space of the theater, she looked up at me with those watery eyes and started to wail. "I don't want to go! I don't want to go!" She shook her head, and the tears ran down her cheeks again as I scurried to the front of the theater.
She never made it on stage. And a hole that I thought had closed in my heart cracked open again. She had worked so hard. She knew that dance backwards and forwards. She could do it. I knew she could. And I had thought I was prepared—I had come to the rehearsal with lipstick and blush and bobby pins and an extra pair of tights and a snack. But I hadn't thought through Penny's deeper needs—how she is always uncomfortable in unfamiliar situations, always "a little nervous," in her words, when she faces anything outside of our regular routine. It wasn't intentional, but it was careless. Sometimes I forget, or perhaps refuse to remember, that Penny has a disability. And maybe it's fine for me to forget about the labels other people might put on her, but I have to remember her vulnerability. I have to remember her particular needs for my care.
We walked backstage after her friends finished their performance. Penny wasn't crying anymore, but she buried her head in my shoulder. I crouched down and her friends crowded around. "I was nervous before," one little girl said. "And then I liked it." Penny looked up. Another came over and gave her a hug. "I love you Penny." And then they all went through the dance again, in the hallway. Penny didn't sing a word and she didn't dance a step. But she stood in her place in line and she didn't cry.
Later that night, after we talked through what had happened and how even though she was a little bit nervous she could have fun dancing, Penny said, "I will only do the hand motions. Not the dancing."
I nodded. "That's just fine, sweetie. Whatever you want to do is fine."
And then she said, staring at her knees, "I'm sorry I was afraid, Mom."
I hugged her tight. "You don't need to be sorry, Pen. You don't need to be sorry at all."
Support our work. Subscribe to CT and get one year free.
To add a comment you need to be a registered user or Christianity Today subscriber.
Recent Posts
Ballet Recitals, Carelessness, and Grace Part One