Will Your Kids Keep the Faith?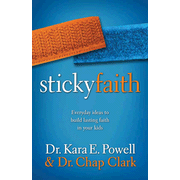 I had a post last week on her.meneutics, "Why Teens Drift Away From Faith" that reviewed a new book, Sticky Faith, by Dr. Kara E. Powell and Dr. Chap Clark. It begins:
Every week after Sunday School, I try to figure out if our kids have learned anything. Do they understand the stories they heard? Do they know the characters? Do they know God's love for them? Do they understand anything about sin or forgiveness or praise? Usually, I get reports about coloring and friends and blank stares when it comes to the Bible. My ears perked up last week when Penny, who is almost 6, mentioned Jacob. I was all set to get the picture Bible and review the story from Genesis when it came out that Jacob was a kid in her class.

There's a part of me that wants to outsource our children's spiritual education to our church. My once-daily habit of "quiet time" has mostly fallen by the wayside due to the incessant demands of getting our whole family ready to walk out the door at 8. I stumble when I try to explain forgiveness or sin in terms our children might understand. We do pray before meals and before bed. We do talk about God and Jesus. We don't do "family devotions," though we do sing "church songs" in the car. But I worry that as my kids grow up and become more independent, they will fall away from the tenuous connections I've offered to God.
To read more, click here.
Support our work. Subscribe to CT and get one year free.
To add a comment you need to be a registered user or Christianity Today subscriber.
Recent Posts
Will Your Kids Keep the Faith?