A Good and Perfect Gift Debuts (Share The News to Win a Free Copy!)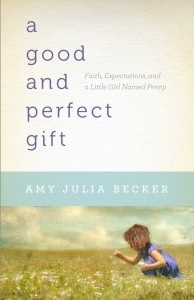 (Update: Alice Hodgkins has won this giveaway–much thanks to Alice and all the others who helped share the news about the book!)
I am thrilled to announce the official release of my new book, A Good and Perfect Gift: Faith, Expectations and a Little Girl Named Penny (Bethany House). It should be available in bookstores today. (Of course, plenty of bookstores might not actually stock the book until it is requested by many, so I encourage you to make those requests!) If you share this news on Facebook and tag me in the post, or tweet it and mention me (which means putting an @amyjuliabecker in your tweet), I will enter you in a drawing to receive a free copy of the book.
It's almost ironic that today is the release date for this book, because in many ways I started writing it six years ago. Six years ago, to the day, my husband and I reported to the hospital for a Level II Ultrasound because a blood test had indicated a higher-than-normal (1 in 316) chance that I would have a baby with Down syndrome. I remember the ultrasound–watching the baby suck her thumb, seeing amniotic fluid pass into her belly, giggling as she kicked and squirmed. And I remember the technician's words, "This baby may be many things, but she won't have Down syndrome."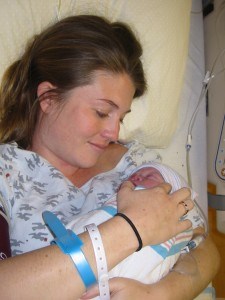 So when the doctors diagnosed Penny with Down syndrome two hours after her birth, we knew that she was not the child we had expected. A Good and Perfect Gift tells the story of how we came to receive Penny as the child we had always wanted. The narrative spans the first two years of her life, from the initial dark moments in the hospital to the light and laughter she brought into our family. It is a story of a remarkable little girl who surpassed expectations, and a story of a couple who experience the transformative power of love.
My website contains more information about the book, including a press release, an excerpt, a Question and Answer with me, endorsements, and a photo journal. By the end of the week it should also include a video and questions for discussion.
I look forward to hearing what you think, and thanks for all your support of this project along the way.
Support our work. Subscribe to CT and get one year free.
To add a comment you need to be a registered user or Christianity Today subscriber.
Recent Posts
A Good and Perfect Gift Debuts (Share The News to Win a Free Copy!)