Writing About our Not-so-Perfect Family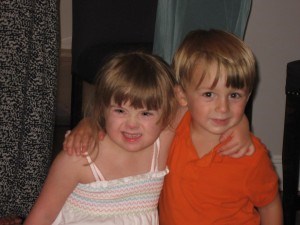 I received a very kind comment over the weekend. In response to my recent post, "Penny's First Day of Kindergarten," she wrote,
Wow, did she really tell you all about the funny man up on the stage? What did she say? Do people understand her when she speaks and does she really speak that clearly? I do not know any other kid with Ds that speaks like your daughter. Somehow in your writing I get the impression that her articulation is perfect and so is her behavior.
The short answer is that Penny's articulation is not perfect and neither is her behavior.
The longer answer is that Penny's speech is not as clear as my posts might imply (not because I'm trying to be deceptive, but because I tend to translate what she says really easily–I add in grammatical "fixes" and I understand words that others don't), but it is clearer than most children with Down syndrome. I don't know why. I could write about early intervention and speech therapy and being in a "language-rich" environment, but many many kids with Down syndrome grow up in very similar homes to ours and aren't talking in the way that Penny does. At the end of the day, her sentences and clarity aren't as a result of all the things we've done right. She's just talking, and I'm grateful for the way she communicates.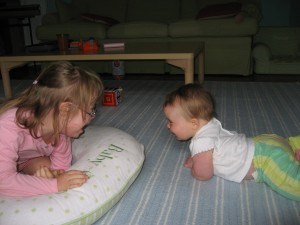 As for her behavior, the biggest struggles we face have to do with impulsivity and compliance. I often repeat myself when I'm giving her directions. We talk about listening ears and controlling our hands a lot. She breaks down in unnecessary (at least from my vantage point) tears daily when she doesn't get her way. I don't write about her behavior very much, or the specifics of those problems, for two reasons. One, because those issues only get resolved very slowly. It's hard to convey them in a blog post, whereas her endearing comments and sweet moments with her work very nicely in this space. Two, because I increasingly wonder whether I get to tell about Penny's struggles. I feel protective of her as she grows up and becomes old enough to know when I'm talking (or, theoretically to know about when I'm writing) about her. I would share the sweet stories with a friend in Penny's presence. I wouldn't share the details of the accident she had or that she spilled milk or exasperated me. I want to respect her as I write about her. With that said, I don't want to convey something untrue about our family, so it is a tricky balance. I did write a post for Bloom-Parenting Kids with Disabilities a while back that might relate here: "Burdens and Blessings," or "Talking About the Hard Stuff."
The internet makes it easy to create a facade, especially through pictures. I for one am happy to forget the tears and tantrums and keep an album of my daughter helping her little sister during tummy time or hugging her brother. But please know that our family is just like every other one. My kids just happen to the have the mixed blessing of a mom who writes stories about them all the time.
Support our work. Subscribe to CT and get one year free.
To add a comment you need to be a registered user or Christianity Today subscriber.
Recent Posts
Writing About our Not-so-Perfect Family