Where Should Christians Send Their Kids to School?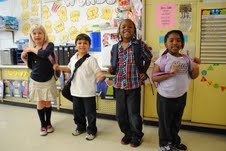 I have a new article for Christianity Today's magazine that is now available online: The New School Choice Agenda. In it, I write about a group of friends who moved into a low-income neighborhood in Richmond, Virginia who have decided to send their children to the local public schools. I also had a chance to interview men and women across the nation, all Christians who have made similar choices. The article prompted me to ask the question–are Christians "called" to send their kids to public schools? To struggling schools? Or perhaps we're called to send our kids to Christian schools or to home school or even to private schools? How should our faith and our desire to love our neighbors impact these decisions, which are often made based primarily upon what is "best" for our individual children?
For the rest of this week, I'm going to be running a series of guest posts this week in which a variety of people share the choices they've made. You'll hear from Abigail Liu and Elisabeth Klein Corcoran about sending their children to Christian schools, from Margaret Philbrick and her son's maturation in a public school setting, from Sarah Reimers about involvement as a parent advocate at her children's neighborhood public school, from Steve Garber about his children attending a private high school, and from Helen Lee and Marlene Molewyk about the choice to home school. If you're anything like me, you'll find yourself grateful for these many voices of parents who are trying to follow God's lead in educating their children.
I should add that all of these come under the banner of Christianity Today's This Is Our City Project, which is looking at five different cities and the ways in which Christians are seeking to bless their communities.
For now, here's the beginning of the article for Christianity Today:
When Cheryl Burke first walked into the dark lobby of Chimborazo Elementary School, where she had just been appointed principal, she noted the distinct smell of urine. Outside, the playground was littered with "40s," large empty beer bottles, and crack cocaine was stashed in one of the bathrooms. "I just cried," says Burke, recalling that day in 1996.

Sixteen years later, the brightly lit lobby sports two armchairs and a coffee table. Where black asphalt once surrounded the buildings, there is now green grass. Sterile white cinder-block hallways now vibrate with colorful stripes of paint. Over the years, "Miz Burke," as she is known to staff, parents, and students alike, convinced the local faith community to pray for the school, raise funds, and counsel and tutor students. Chimborazo's scores on the state Standard of Learning exam have climbed, and now the number of students declared "proficient" in math and reading hovers around 60 percent.

Still, 88 percent of Chimborazo's students are so poor they receive free or reduced-price lunches; with that poverty comes a litany of challenges for the PK-5 school. As bright and beautiful as Burke has made it, Chimborazo reflects its local community, with all its hurts and all its possibilities.
To keep reading, click here.
Support our work. Subscribe to CT and get one year free.
To add a comment you need to be a registered user or Christianity Today subscriber.
Recent Posts
Where Should Christians Send Their Kids to School?