What Does it Mean to Pray in Jesus' Name?
What Penny taught me about praying "in Jesus name."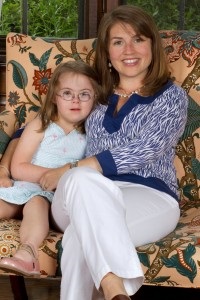 "What in Jesus name mean, Mom?" Penny asked after I had prayed for her the other night.
I more or less say, "In Jesus Name, Amen" to conclude every prayer. And I had a vague memory of asking myself what exactly those words mean a long time ago. But when Penny asked me, I was tired and feeling a bit rushed with bedtime because we had friends waiting downstairs, so I mumbled something incomprehensible to me and my daughter, gave her a kiss, and walked out the door.
But her question lingered. What does it mean to offer a prayer to God—to converse with God and believe that God hears and that God responds—in the name of Jesus? I'm sure there's much more to it than this, but a few days later, when Penny and I were sitting on the porch steps watching William try out his new T-ball game, I followed up. "Pen, I didn't answer your question very well the other night."
"That's okay, Mom."
"I know, but I"m going to try to do better. You asked me what it means to pray in Jesus' name. And I've been thinking about your question. I think it means we're reminding ourselves that we are a part of Jesus' family. We aren't just praying on our own, but we are praying as a part of Jesus' family, in Jesus' name. Just like our family all has the name Becker, Jesus has invited us to become a part of God's family. So when we say, in Jesus name, we're basically saying that we're excited to be a part of God's family."
I think there's more to it–that claiming Jesus' name identifies us with his death and resurrection, demonstrates to any forces of evil whose side we're on, so to speak, and more beyond that. But I'm grateful to Penny for reminding me that we are children who have been invited to live as sons and daughters in the house of the Lord. And I'm grateful to be reminded that I–like many brothers and sisters from all across the globe and across all of our socially-constructed dividing lines–am a part of the family of God. That I have the great privilege of praying in Jesus name.
Support our work. Subscribe to CT and get one year free.
To add a comment you need to be a registered user or Christianity Today subscriber.
Recent Posts
What Does it Mean to Pray in Jesus' Name?