Joy All Year Long, and Even in the Midst of Sorrow
"...this year, of all years, I want to celebrate the birth of love within our broken world."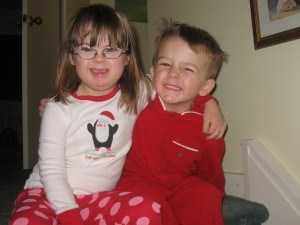 I have a new post up on the Huffington Post religion page, reflecting on the hustle and bustle of Christmas, the sadness so many of us have felt this past week, and the anticipation of joy. It begins:
I was walking home from the playground on a warm spring afternoon. My oldest daughter Penny, who was six at the time, ambled along nearby. I could hear her singing to herself, but I wasn't sure of the tune until she revved up the volume for the line "God and sinners reconciled!" Not exactly what I had expected, but I shouldn't have been surprised.
For those of you who don't sing Christmas hymns all year round, this line comes from "Hark the Herald Angels Sing." My kids have been requesting it before bed since last December, along with the other "Christmas church songs": "Silent Night," "Joy to the World," "Angels We Have Heard on High," and "O Come All Ye Faithful." Penny and her younger brother William know at least two verses of each by heart, and I routinely hear William making up songs that include the words joy, peace and Jesus.
My kids sing about Christmas all year round, but when the actual season approaches, truth be told, it wears me out. The bedtime message of hope and joy that we repeat night after night doesn't get old, it's just that in December I feel like I have to produce said hope and joy via tinsel and stockings and molasses spice cookies. The tragic events in Newtown last week only made it more difficult to muster up cheer and good will.
Click to continue reading Joy All Year Long
Support our work. Subscribe to CT and get one year free.
To add a comment you need to be a registered user or Christianity Today subscriber.
Recent Posts
Joy All Year Long, and Even in the Midst of Sorrow