Do You Want a Perfect Family?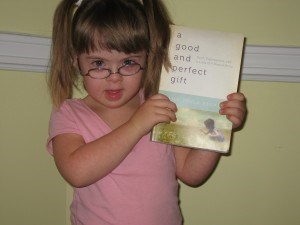 As those of you who have read A Good and Perfect Gift know (and, I suspect, as those of you who read this blog regularly also know), I struggle with perfectionism. Having Penny, our six year old daughter with Down syndrome, in our lives, has offered us an opportunity to rethink perfection, among other things. Recently, I spoke with Bob Wells of Duke Divinity School's Faith and Leadership Institute about Penny, perfection, leadership, and the church.
A few excerpts from the interview:
On identity and ability–
In our culture, it is easy to create an identity based upon intellect or financial success or power. But if our identity is grounded in those things, we're going to find ourselves failing at some point. We're never going to be able to live up to our own standards, and at a certain point, we're literally not going to be able to continue to accomplish those goals.

But if our identity is based upon love, on the fact that God loves us for who we are, apart from what we do, then we can explore the things we love and find a deeper enjoyment from them.
On perfection:
I remembered that verse from Matthew 5 where Jesus says, "Be perfect as your heavenly Father is perfect." I looked up the word and saw that in Greek, "perfect" comes from telos, which really means wholeness and completion more than perfection . . .

That is a type of perfection that I can want for myself and my family, because it is a perfection that allows for weakness, for dependence on other people, for need and for giving and growing.
On the church:
. . . if churches mean what they say theologically, then there is an important place for people with disabilities within the body of Christ, not simply as those who need the service and care of the rest of the community but also as ministers in their own right.
You can read the whole interview at "It's No Mistake, Penny is Perfect," and you can also read an excerpt from A Good and Perfect Gift (not available anywhere else, other than the book itself, that is): "Welcoming Penny."
Support our work. Subscribe to CT and get one year free.
To add a comment you need to be a registered user or Christianity Today subscriber.
Recent Posts
Do You Want a Perfect Family?