Down syndrome, dancing, and delight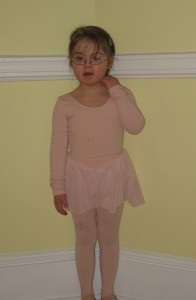 Some of you remember that Penny took ballet when she was 4. You might have read about her recital (Ballet Recitals, Carelessness, and Grace Part One and Part Two). It's a long story, but she's just really started dancing again, and I wrote about this renewed joy for the "My Great Story" feature of the National Down Syndrome Society. I'm writing about her dance class, yes, but also about how I continue to learn to let go of fear and hold onto hope for our daughter. I begin:
When Penny was a baby, her dad danced with her all the time. She was tiny—five pounds when we brought her home from the hospital—so he could hold her in one arm. Peter twirled her around the room with dips and bounces and frequent kisses on the forehead. Penny's namesake, her late grandmother, had grown up in New Orleans, and Peter compiled a CD of New Orleans music as a tribute. Whenever it happened to be playing and he walked in the room, he swooped Penny into his arms and they danced. Louis Armstrong. Galactic. Dr. John. Jazz, zydeco, gospel, funk.

In the beginning, Penny's big blue eyes widened with every twirl, as if she might burst into tears. Within a few months, though, those same eyes lit up when he placed her in the crook of his arm and began to sway. She giggled, and then, months later, clapped. Eventually she learned the sign for music. And we learned that she loved to dance with her dad . . .
Click here to keep reading Our Daughter the Dancer. I'd love for you to visit the My Great Story site and vote for this story (the two stories with the highest number of votes will go into the NDSS newsletter).
Support our work. Subscribe to CT and get one year free.
To add a comment you need to be a registered user or Christianity Today subscriber.
Recent Posts
Down syndrome, dancing, and delight