What I've Learned Through Penny (in Six Minutes)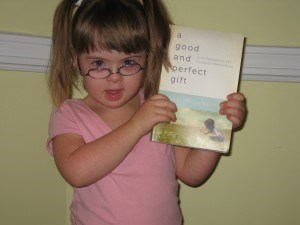 I had a lovely conversation with Susie Larson for Moody Radio last Friday. Somehow in six minutes she got me to talk about being a perfectionist in college, the freedom Penny has offered to me as a mother, where is God in the midst of suffering, and what it means to receive one another as gifts. Click here to listen to the interview.
While we're at it, I've seen a few reviews of A Good and Perfect Giftrecently. In one, Danielle Tumminio writes for the Huffington Post:
A child like Penny is a prophetic child, one that causes Becker and, in turn, the reader, to reconsider what it means to be "disabled." She challenges our culture to think more about how we have treated "disabled" people in the past and how we can do better to embrace difference in the future. And perhaps most powerfully, she challenges us to remember that whatever we do, we do in the image of God, the same image, in fact, in which God has fashioned us.
Read more at "What a Little Girl Named Penny Can Teach Us About Faith and Disability"
Another blogger, Lisa Littlewood, writes:
[Amy Julia's] book is as much about her spiritual journey as it is about motherhood. About how our spiritual journeys can become confusing when we're not sure how to reconcile our circumstances with our Christian faith...when the two things don't seem to make sense together. It's about those times when life doesn't go as we had planned and we're not sure we like the fact that it might be going just as God had planned...
Read more at "Giving Thanks for the Unexpected"
Finally, I figured I'd take this time to mention that I send out a monthly newsletter that includes blog highlights from the previous news, a few photos, and a calendar of recent events. If you'd like to subscribe, go to my website at amyjuliabecker.com, scroll down on the right and click on "Join Amy Julia's Mailing List."
Support our work. Subscribe to CT and get one year free.
To add a comment you need to be a registered user or Christianity Today subscriber.
Recent Posts
What I've Learned Through Penny (in Six Minutes)