A Case for Spiritual Religion (and, I Wrote Another Book)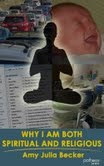 A few months ago, I wrote a post called, "Why I'm Both Spiritual and Religious." Due to a conversation with a reader in response to that post, I realized that I had a lot more to say on the topic. And so I have written an ebook (30 pages), available for 99 cents on Amazon. It's called Why I Am Both Spiritual and Religious (yes, that's our own William screaming on the cover, though it is not me in the yoga pose). (And if you don't have a Kindle, you can still purchase the book and download it onto your computer.)
I imagine many of you have already seen the You Tube video "I Hate Religion But Love Jesus." I wrote this essay long before the video went viral (16 million views and counting), but in many ways this book offers my response. I argue, "People want spirituality without religion because they've experienced religion without spirituality." But instead of insisting that we choose one or the other, I make a case for Christianity as spiritual religion. I conclude with some suggestions for practicing religion and spirituality together.
Here are a few other writer's thoughts about the book:
"Most of us, depending on our leanings, have an aversion to either "religion" or "spirituality." Some of us cringe at both. Aware of this burden we bear, Becker 's reflections point readers toward the One in whom they can find life and . . . at last . . . rest."
–Margot Starbuck, author of Small Things with Great Love
Why I Am Both Spiritual and Religious is a captivating read. In it, Amy Julia Becker teases out the reasons behind our culture's weary disappointment in both religion and spirituality. She then describes what "spirit-filled religion" is like and details the gifts of true rest and purpose such practice yields.
- Jennifer Grant, author of Love You More and MOMumental.
So, buy the ebook, spread the word, and let me know what you think.
Support our work. Subscribe to CT and get one year free.
To add a comment you need to be a registered user or Christianity Today subscriber.
Recent Posts
A Case for Spiritual Religion (and, I Wrote Another Book)