Prayers for My Daughter on Her Sixth Birthday...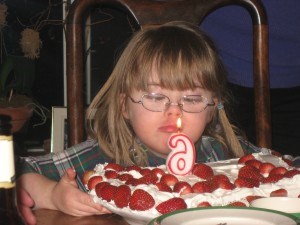 On the morning of Penny's birthday last Friday, I picked up my "prayer card" for her. It's a record of my hopes and dreams for her from the past year. It includes a verse from Psalm 1 that I've prayed for her more or less since she was born:
Blessed is the one who does not walk in step with the wicked

or stand in the way that sinners take or sit in the company of mockers,

but whose delight is in the law of the LORD, and who meditates on his law day and night.

[She] is like a tree planted by streams of water, which yields its fruit in season and whose leaf does not wither— whatever she does prospers.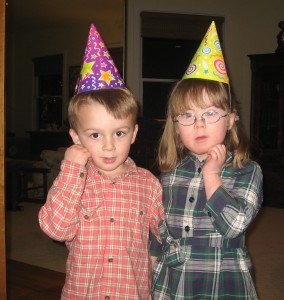 On the same card, in multiple places, are requests that Penny would make friends. That she would have "one good friend in kindergarten." That she and William would become friends. That she would have playdates.
We had celebrated Penny's birthday a few days early with a party at my parents' house (see photo), and then we celebrated again on her actual birthday with more presents and a playdate with Penny's friend "Anna" from kindergarten. I took them out to lunch for pizza, where they snuggled up together in a booth designed for one person. They held hands and giggled and Penny said, "Anna! You are so FUNNY!" and then later, "I have some super exciting news announcement. I have a puppy named Sparky." But later on that afternoon, I found Anna sitting by herself, head down.
"Anna, is something wrong?"
She nodded. "Penny isn't playing with me."
I called Penny over and we worked it out.
The playdate was the highlight of Penny's day, and the highlight of mine, knowing not only that she has a good friend, but also that God has been faithful to us. That a prayer I have prayed for years upon years upon years has been answered.
Support our work. Subscribe to CT and get one year free.
To add a comment you need to be a registered user or Christianity Today subscriber.
Recent Posts
Prayers for My Daughter on Her Sixth Birthday...