Prayers for Our Daughter on Her First Birthday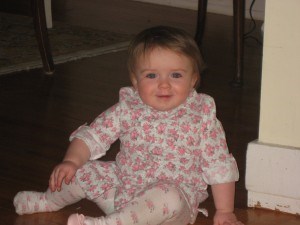 Marilee (pronounced "merrily") turns one today. As I wrote in our Christmas letter:
Her name fits her well, as she is the happiest baby we've ever known. We often remark that she must sneak out at night and take classes in how to be cute. She claps readily, giggles at her older brother and sister, coos and snuggles and generally endears herself to us daily. We're very glad she's here.
In some ways, our kids have all taught us the same lessons. With each addition to our family we learn the meaning of sacrificial love all over again. We've grown, I hope and pray, in patience and grace and joy. And yet each of them is also a distinct gift with distinctive offerings to us and the world around them.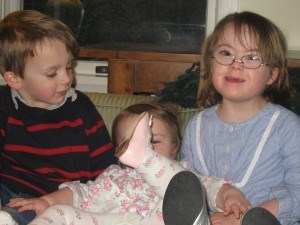 Penny was an easy baby who taught us how to let go of expectations and love deeply. With William, we had an intense baby who taught us to let go of control and pray a lot for God's presence in sleepless nights. With Marilee, we have an easy baby who have taught us much about gratitude. Gratitude not only for her sweet spirit and open-mouth kisses and long nights of sleep, but gratitude for the way she has changed the rest of us. For the chance to see William and Penny hop out of their chairs in the morning as soon as they hear her waking up. For all I'm learning about depending upon God in the just-bordering-on-chaos of a family with three kids. For the chance to experience the details of this particular life.
I remembered the other day that I have often prayed for laughter in our home. Marilee, in that way among many others, has been an answer to prayer.
I have also been thinking about the Psalm I have prayed for her since a few weeks after she was born: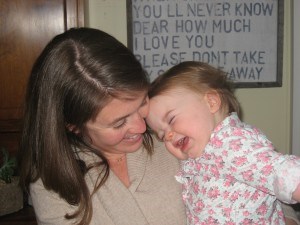 For you have been my hope, Sovereign LORD,
my confidence since my youth (Psalm 71: 5).
The Psalm goes on to ask God to be present in old age, and in the midst of trials and sorrow. And then the Psalmist declares, in verse 14,
As for me, I will always have hope;

I will praise you more and more.
Marilee, your life has already been an occasion for hope and praise. May that hope become your own, and may you continue to praise God more and more.
Support our work. Subscribe to CT and get one year free.
To add a comment you need to be a registered user or Christianity Today subscriber.
Recent Posts
Prayers for Our Daughter on Her First Birthday