My First Awards Ceremony...
Books, film, and shows that affirm the highest values of the human spirit.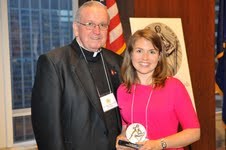 Image: Photo courtesy of Paul Schneck
Last month I had the pleasure of attending my first awards ceremony ever: the 63rd Annual Christopher Awards in New York City. The Christopher's exist to celebrate media that affirms the highest values of the human spirit. Due to alphabetical bias (aka my last name is Becker), I received the first award for A Good and Perfect Gift. On the one hand, nice to be able to relax for the rest of the evening on the 30-somethingth floor of the Mutual of America building with views of the city all around. On the other hand, I was totally unsure of where to go or what to do, and I was wearing the pinkest dress I've ever seen. I think I managed all right.
And then I got to hear about a host of other books, films, and shows that also received Christopher Awards and that you might enjoy. I've seen Of Gods and Men, a true story of monks living in Sarajevo and deciding whether not to risk their lives by continuing to serve the largely Muslim population around them. I'm looking forward to watching The Way, a film about an American doctor taking a pilgrimage in honor of his late son and Serving Life, a documentary about inmates in prison offering Hospice care to one another.
I'm halfway through the amazing story of Katie Davis, who left her comfortable American life in Tennessee at age 19 to live in Uganda and has never looked back. Her book, Kisses from Katie, documents the past few years of living among poverty and giving and receiving great love. I'm also looking forward to reading I Shall Not Hate, the true story of a Palestinian doctor Izzeldin Abuelaishwho sought reconciliation with Israelis even after his three daughters were killed by Israeli soldiers.
I'm grateful to have A Good and Perfect Gift included among such wonderful company.
Support our work. Subscribe to CT and get one year free.
To add a comment you need to be a registered user or Christianity Today subscriber.
Recent Posts
My First Awards Ceremony...