Beginning to Understand Her as a Gift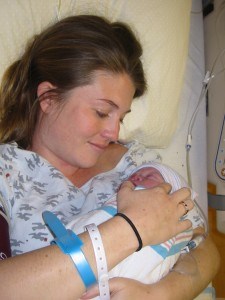 For those of you who have already read A Good and Perfect Gift, this post will seem quite familiar, as it is adapted from Chapter One. For those of you who haven't, our birth story with Penny was featured last week on designmom.com. And whether you've read it or not, go to amyjuliabecker.com and scroll down on the homepage to view a scrapbook with photos from the first two years of Penny's life. Here's a sneak peak to the beginning of our life with Penny:
I woke up with a stomachache. After two hours curled in a chair reading, I padded down the long hallway from the living room to our bedroom, shaking my head. I had seen my doctor the day before, and I could still hear her words: "You aren't dilated at all. You haven't dropped. It will be another week or two at least."

I reached the bedroom and nudged Peter's shoulder. "I might be having contractions." He rolled toward me and squinted into the light. "Really?"

"It's probably false labor," I said, trying to sound calm. I glanced at the clock. Six a.m. "But I want to get the nursery ready. Just in case."

It took about three hours to get the clothes washed and folded and to fill the walls of Penny's room. "I guess I should call the doctor," I said, once there was nothing left to do. Another hour and three contractions later, we arrived at the hospital, just to check on my progress. Dr. Mayer examined me and said, "I can feel your baby's head. You're here to stay." I found myself attended to by two nurses at once, my clothes in a heap and a hospital gown over my head and a strap around my middle to monitor the strength of the contractions along with Penny's heart rate. A prick in the vein on top of my hand and an IV dripping fluid into my bloodstream.

They moved me into a private room—big and bright, with picture windows spanning the horizon. An anesthesiologist arrived to start the epidural, and soon it had numbed my body from the waist down. Now all I had to do was wait.
To continue reading, click here.
Support our work. Subscribe to CT and get one year free.
To add a comment you need to be a registered user or Christianity Today subscriber.
Recent Posts
Beginning to Understand Her as a Gift