Faith, Grief, and Growing Up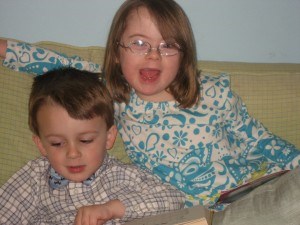 Fellow Redbud writer Kelli Trujillo interviewed me for her blog this week, and in one question she asked:
When you first stepped into the journey of having a newborn daughter with Down Syndrome, you write about how you were faced with the reality that your daughter may not ever meet some of the expectations or hopes you'd originally had for her. Can you share a bit about that? And for any of us in each of our own situations, do you think trust means surrendering expectations?
I responded with a few paragraphs, and then ended with the thought:
Your question makes me wonder whether trusting God almost always involves grief, and almost always leads to freedom.
Trust, grief, freedom. Which leads me into something else I was thinking about this week...
I had a "quiet" time on Sunday. Quiet gets quotation marks because Penny and William were having "quiet" times with me. Which meant that as I tried to pray, for example, William said, "Mom, why are your eyes closed?" And as I was reading the Bible, Penny sat in the chair next to me reading The Cat and the Hat Comes Back. Out loud. And I must say, Dr. Seuss doesn't do much for my spiritual life.
Somehow in the midst of it all, God taught me something. I was reading Mark 5:21-43. It's a story we talked about a lot in seminary, and I used to teach from it often, so I think of it as very familiar. In it, Jesus is on his way to Jairus' house. Jairus has run to Jesus to beg him to come to his house because his 12-year old daughter is sick. On the way, as Jesus pushes through a large crowd, he feels "power" go out from him. And so he stops to find out why. The action then moves to a woman who has been bleeding for 12 years who had just reached out to touch Jesus' cloak. In response, and perhaps to her dismay, Jesus stops to talk to her. He says, "Daughter, your faith has healed you." Only then does Jesus keep going to Jairus' house. But Jairus' daughter is dead by the time they arrive. Jesus says, "Don't be afraid. Just believe." And then he tells Jairus' daughter to get up.
They taught this passage in seminary because it's a great example of a Markan "sandwich," in which Mark puts one story in the middle of another to draw connections between the two (the nameless woman becomes a daughter, so Jesus' love for the bleeding woman is paralleled with Jairus' love for his daughter . . . she has been bleeding for twelve years, just as Jairus' daughter is twelve years old...). I taught this story in Bible Studies over the years because I loved Jesus' tenderness with the woman.
But there are two things I had never noticed before.
First, Jesus' humility. In both cases, he does everything he can to turn attention away from himself. He says to the woman, "Your faith has healed you," almost as if he had nothing to do with it. He tells Jairus that his daughter is only sleeping, as if it isn't that big a deal to bring a child back to life.
Second, Jesus' desire to give Jairus more than healing. Here's yet another parallel between the two stories. In both, Jesus heals. In both, Jesus affirms women as daughters. But what I just realized is that both stories are also about Jesus giving faith. He wants the woman to know that she was healed not simply because he has miraculous powers but because she had faith in him. He wants Jairus, like the woman, to experience more than healing power. He wants Jairus to receive faith as well. Faith lasts forever. Faith involves ongoing relationship, not just a one time miracle. Faith means that Jairus and the bleeding woman are active participants, crucial players, in God's work. Not just recipients of a miraculous healing but people in relationships with Jesus.
So there is Jairus– trusting Jesus, grieving the loss of his daughter, receiving the freedom to love her again. And there's the woman–trusting Jesus in the midst of her grief about her incurable and unclean condition, receiving the freedom to enter society. And here I am, continuing to try to trust Jesus, and grateful for the ways that he has turned my grief into freedom.
To read the full interview with Kelli, click here.
Support our work. Subscribe to CT and get one year free.
To add a comment you need to be a registered user or Christianity Today subscriber.
Recent Posts
Faith, Grief, and Growing Up