A Good and Perfect Gift Wins a Christopher Award!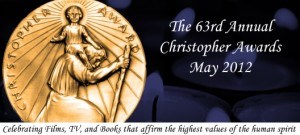 We were in the San Juan airport on our way to four days of vacation (just Peter and me!) when I received an email that read, "A Good and Perfect Gift wins Christopher Award!" At first I didn't believe it. But I kept reading, and I realized it was real. It was a wonderful way to start a vacation.
According to their website:
First presented in 1949, the Christopher Awards were established by Christopher founder Father James Keller to salute media that "affirm the highest values of the human spirit." Their goal is to encourage men, women, and children to pursue excellence in creative arenas that have the potential to influence a mass audience positively . . .
Five adult books won the award this year, alongside a handful of films, TV shoes, and children's books. Click here to read the full list of award winners. Tony Rossi, producer of the annual Awards Ceremony, has also written a review of A Good and Perfect Gift, Visible Reminders of God's Grace:
One of the many strengths of Becker's writing is that she never adopts a harsh tone of condemnation toward those who have chosen differently than she did. She understands their fears because she's walked through them herself. What she found is that the perfect love between parent and child opened her heart, and that of her husband as well, to an unexpected and immeasurable amount of joy. Now, Becker wants to help others see that truth, to see the joy and hope that are possible after having a child with Down syndrome. That's why "A Good and Perfect Gift" is an ideal book for anyone, regardless if they're pro-life or pro-choice. It's a heartfelt and enlightening story that could literally save some lives.
While we're at it, Jolene Philo, author of Different Dream Parenting, reviewed A Good and Perfect Gift on her blog. She writes:
Clear, beautiful prose mark this memoir. Becker writes transparently, sharing her doubts and feelings without becoming overly emotional or sentimental. She presents her faith quietly and intelligently, never shying away from complex theological dilemmas. She accomplishes this without being preachy or self-righteous. In fact, humility and brokenness pervade the pages of this memoir . . . It is, perhaps, the best special needs parenting memoir I have read in either the Christian or general market.
And Linda Arntzenius writes A Local Mom Explores Down Syndrome, Faith, and More:
"A Good and Perfect Gift: Faith, Expectations, and a Little Girl Named Penny" is Amy Julia Becker's candid and fearlessly honest account of her daughter's birth: from pregnancy test to fleeting glances between delivery room nurses, the first inkling that something was not quite right, to the Beckers' own complicated mixture of joy, sorrow, and fear; from perplexed questioning to self assurance and the birth of a second child in 2008.

Read the prologue and you will be hooked.
Support our work. Subscribe to CT and get one year free.
To add a comment you need to be a registered user or Christianity Today subscriber.
Recent Posts
A Good and Perfect Gift Wins a Christopher Award!