What Does It Mean to Listen to God?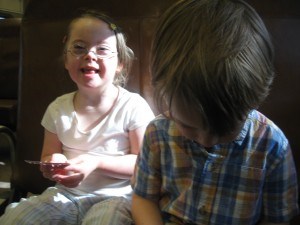 Peter has a two week spring break. It involves some grading and commenting and preparing for the upcoming term, but it also involves a chance to rest. We took advantage of the graciousness of many family members and a babysitter and got away, just the two of us, for five nights, which, come to think of it, might be the longest time we've been away since Penny was born. (We also took a "special adventure" into Princeton, five miles down the road, with our kids. They got to ride the train, go to Princeton University's art museum, children's library, and chapel, not to mention ride the tigers and then eat pizza and ice cream. The pictures throughout this post come from that time together.)
There's plenty I could write about the time away, but one gift of the time came in an opportunity to spend time with God without the relentlessness of a clock or the sounds of children in the background. I've been reading Richard Foster's Sanctuary of the Soul: Journey Into Meditative Prayer, and I decided to try to listen. Each day, I asked God to speak to me about different aspects of my life–first, to show me areas I needed to change (i.e. confession), then to help me see anything I should do differently with our kids, with my writing, and as we prepare for the future. (And let me say here, God bless Richard Foster because in his book he is very clear that mothers of young children will have a tough time listening to God in the midst of daily life and he says we shouldn't worry about it.)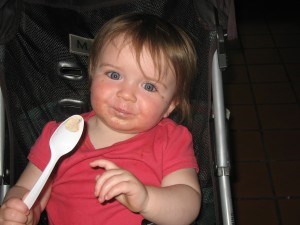 But we were on vacation, and I wondered it God might have something to say. When I was trying to listen about areas I needed to change, I heard a simple phrase: Slow Down. Later that day, I went for a walk, thinking about what it might mean to "slow down." It led to a sense of surrender, in which I offered up my schedule and my writing goals, in which I returned to Psalm 131 and prayed that I wouldn't "concern myself with things too wonderful for me," in which I thought about enjoying all the good gifts I've been given.
By the next day, I had forgotten all about it.
Because that next day I was asking God about writing. I've been thinking for a while that I want to write something longer than a blog post about prenatal testing, and I've also been wanting an idea for my next book. I've been trying to put these two desires together and figure out a way to write a book about prenatal testing, but I kept coming up short. That day on my walk, it became clear to me. First, I decided (God told me?) to write an ebook about prenatal testing. And then, all of a sudden, I had an idea for the next book (I'll tell you more about that, I promise, but I want to work out some details first).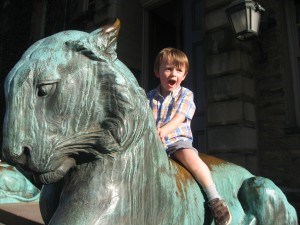 I came back from vacation, refreshed and grateful, and ready to speed things up. I pitched the ebook idea and got a positive response. I pitched the book idea to my agent and got a positive response. So I set out to write and write and write. All this in the midst of over a dozen speaking events this spring, with four different trips planned, and as we prepare to move our family this summer.
When our babysitter broke her foot and said she wouldn't be able to come back to work for 6-8 weeks, I panicked. In my mind, I needed to manage our household, write a blog post every day, travel, create an ebook, and begin a book proposal. And I needed to do it all. Yesterday.
I started looking for a replacement babysitter, and I asked a few women to pray for me. God used one of those praying women to remind me of that first day of vacation: Slow down. Not–stop writing altogether. But slow down. Admit your limitations. Take care of your family. And trust me.
So here I am again, grateful that God is gracious enough to use a megaphone when I prove myself to be hard of hearing. Excited to write, at a slower pace. Excited to walk through the spring with our children. And hoping that I will remember that listening and obedience are one and the same.
Support our work. Subscribe to CT and get one year free.
To add a comment you need to be a registered user or Christianity Today subscriber.
Recent Posts
What Does It Mean to Listen to God?