Upcoming Events: Germantown, MD, New York City, and Chicago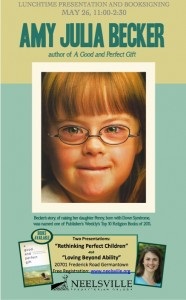 For any of you who have checked my website lately, you might have noticed it's been a bit static. My web designer is closing shop, so I'm in the process of moving to a new site. Although the current site is still worth your time as far as seeing a slideshow of Penny as a baby (scroll to the bottom of the home page) and lots of articles I've written about prenatal testing, Down syndrome, spirituality, and more . . . one area of the site that isn't helpful at all at the moment is my events page.
I'm winding down my speaking events for A Good and Perfect Gift in light of our upcoming move, but I do have three more:
This Saturday, May 26th, in Germantown, Maryland at Neelsville Presbyterian Church. I will be speaking on "Rethinking Perfection" at 11:00 a.m. and then on "Identity and Ability" at 1:00 p.m. Lunch will be served in between. To register, click here.
Wednesday, June 13th, I will be discussing A Good and Perfect Gift at Gigi's Playhouse in New York City at 6:30 p.m.
I will also be heading to Chicago from Tuesday, July 17 through Thursday, July 19th. I will be speaking on Wednesday, July 18th at the Summer Institute on Theology and Disability at Chicago Theological Union. I am available for speaking engagements on both the evenings of July 17th and July 18th.
Support our work. Subscribe to CT and get one year free.
To add a comment you need to be a registered user or Christianity Today subscriber.
Recent Posts
Upcoming Events: Germantown, MD, New York City, and Chicago