Grace, by way of Dunkin Donuts
We are on the edge, and we keep getting pulled back by grace.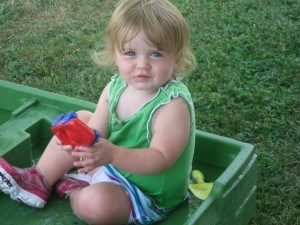 We've seen a lot of family lately, and both my sister and my sister-in-law have children just about Marilee's age. Recently, as Marilee barreled down the stairs and refused to sit in a high chair and drank out of an open cup and said, "I want backpack!" and stumbled around with Penny's ginormous one strapped on, my sister said, "Can I make her a T-shirt that says, 'Can you tell I'm a third child?'"
A few weeks ago, we went for a family walk on a local trail. Marilee desperately wanted to keep up with Penny and William and so she ran, and fell, for a good forty minutes. She never cried, just jumped up, brushed herself off and kept on running. Her legs were so bruised that my mother asked a few days later if she had a disease.
I couldn't have predicted her resilience, or how impossible it has become to be a vigilant parent, but I can't say I'm surprised by this turn of events. It's just what happens with a third child. But.
At the same time that Marilee has become as independent as her siblings were a year later, we've moved. And for the past three weeks, all sense of order and balance has been thrown out the window. All three kids have started school during this time, and Peter's new job has kicked into full gear (I can't remember if I've mentioned that he's now the head of a small boarding school in Connecticut?) as students have arrived on campus and classes have started. So we're learning new routines and new people and new places. And we moved for the second time on Monday, in the midst of back-to-school nights at two schools, a new ballet class for Penny, and phone tag with the vet about our cat's hyperactive thyroid.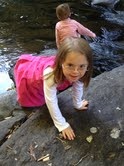 I could tell story after story of irresponsible parenting from the past three weeks. I will gladly skip the unfortunate yelling episodes that have come with far greater frequency than usual. But I will share two because they stand as reminders of grace for this new year ahead.
First, the day I had to take Marilee and William with me to the vet. We waited for half an hour, so by the time we were in the exam room both kids were bouncing off the walls. That's a literal expression in this case. And by the time we left, 45 minutes later, I peeled Marilee off the rug on the floor in the waiting room. Dog hair–well, you can just imagine the dog hair. We had 20 minutes before Marilee's appointment at the pediatrician where I knew he would be digging something (turned out to be two shards of glass) out of the bottom of her foot. And so I asked about someplace to get them a snack. The answer? Dunkin Donuts.
So we sat in the parking lot of the pediatrician's office with a cup full of Munchkins. Just two days earlier I had met with the dietician at the pediatricians office and she had commended me for my children's nutritious way of life. They tasted great.
The second came a few days later, when Peter had been unexpectedly detained because our campus was under threat of tornado, and I took all three kids to the grocery store on my own. I made it through the door with William and Marilee, but somehow Penny was outside and couldn't get the door to open automatically. By the time Marilee was strapped into the cart, Penny and William had run to the snack aisle. By the time we had two oranges, a mango, and a bunch of bananas in our cart, I decided to abandon the mission. We left the cart, and got back in the car. In the front seat, I said, "Guys, I don't know what I'm going to do. I don't know what I'm going to do." I said it over and over again, feeling as though I was stuck behind bars, pacing in my cell. And then William said, "Mom, maybe I need to tell you a funny joke." He told me the one about the dog who licked a lollipop, and he laughed and laughed. And it broke through. It got me out.
We are on the edge, and yet we keep being pulled back by grace. By comfort in the midst of things I was never going to do or let my kids do. By laughter in the midst of a flood. Munchkins in the parking lot. Jokes from my four-year old. Grace.
Support our work. Subscribe to CT and get one year free.
To add a comment you need to be a registered user or Christianity Today subscriber.
Recent Posts
Grace, by way of Dunkin Donuts