What Do You Want to Teach Your Kids About Money? (and what do our Presidential candidates teach them?)
What does the election of 2012 teach me, and my children, about economic productivity, hard work, and charitable giving?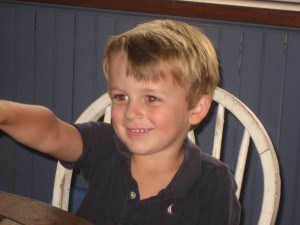 Recently, William has become obsessed with money. I think it started when he received twenty dollars for his birthday, which prompted a trip to the toy store where he got to purchase something that he selected. He's been on a quest for more money ever since. He scoured the car for coins. He plays "look for money" during his "quiet time" in the afternoon. A few days ago he woke up from a nap inconsolable. He finally calmed down enough to gasp, "Mom, I just need a piece of money." Once he had a quarter in his hand, all was well.
So perhaps it was prescient that I wrote a post for parents.com last week about money, "What Would Romney or Obama Teach my Kids About Money?" It begins:
The election of 2012 is supposed to be all about the money. We've heard about Mitt Romney's tax returns (he paid 14 percent in taxes on hundreds of millions of dollars in income) and Paul Ryan's budget plan (which calls for a 16 percent decrease in spending on the poor, for instance) and President Obama's "socialism" (based largely upon his support of universal health care). Although the rhetorical jabs lobbied at both sides should probably be dismissed as caricatures of what these men actually propose when it comes to economic policy, this focus upon the economic health of our nation has led me to wonder who I should vote for in November. And one way for me to try to answer that question is to consider what I want to teach my children about the intersection of work, money, and ethics.

Our kids aren't old enough to think about money on an abstract level. They know that money buys things, but they don't really know that it comes from a paycheck. In fact, they've more often been the recipients of money that comes from gifts–a twenty dollar bill from a grandparent on their birthdays, the man at the local coffee shop who always gives them a few coins, the tooth fairy who leaves a dollar under Penny's pillow (until she decided to stop that strange practice by writing a note: Dear Tooth Fairy, Don't come. Ever.).
To keep reading, click here.
Support our work. Subscribe to CT and get one year free.
To add a comment you need to be a registered user or Christianity Today subscriber.
Recent Posts
What Do You Want to Teach Your Kids About Money? (and what do our Presidential candidates teach them?)