Help from the Elf
Why I oppose the elf on a shelf, and why I was grateful for him this week.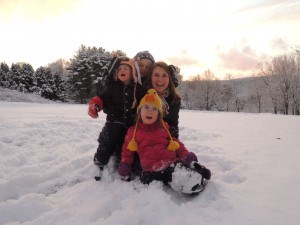 I'm so not an Elf on the Shelf person.
a) it takes me until mid-December to realize that Christmas is coming (thus the elf only arrived at our house two days ago when my husband remembered his existence).
b) I don't do anything crafty or cute or fun or creative with my kids in anticipation of Christmas. For instance, as I type they are baking and decorating sugar cookies with our babysitter. They created icicles and an arrangement of greenery with their Nana. My contributions to the season involve reminders of the religious aspect of the holiday (more on that later), reading books that have to do with Christmas, and, this year at least, watching movies. In the past week, we've seen Home Alone, The Polar Express and Happy Feet (which may or may not count as a Christmas movie but does involve a lot of snow).
c) I don't like deceiving our children. Santa Claus and the Tooth Fairy are bad enough. We've managed to avoid the Easter Bunny, and we make lots of vague statements to try to avoid outright direct lying, but still. Why add another creature they will one day learn is fake?
d) I don't believe in the theology of the elf. This whole if-you're-good-you-get-presents idea stands in direct opposition to what I think we're celebrating at Christmastime: that Jesus was born, God in the flesh. Full of you-aren't-good-and-I-still-love-you. Full of if-you're-bad-I-still-bless-you. Full of grace.
And yet.
The elf showed up for the first time on Tuesday morning, which also happened to be a snow day. William and I had already spent two hours arguing about how much television he could watch. I was trying to hold off, given that we had twelve more hours before bedtime. He felt very grumpy about this plan. And he showed me his displeasure by throwing things and scowling and thwacking Marilee with his stuffed giraffe. Until he scampered downstairs to make himself breakfast (one of our arguments was that I asked him to wait for breakfast until I finished helping his sisters). He discovered the elf, and he ran back upstairs a new man.
The new man part came because he was excited. But also because the elf just might tell Santa that William had been naughty all morning. William was the essence of helpful for the rest of the day. I was very very grateful for the elf.
The elf is a great help as far as behavior management. For a few weeks.
Thank God, literally, that God cares about so much more than behavior management. And that God cares for the duration of our lives and not just the few weeks leading up to Christmas.
The elf transforms my son for a moment. (And let's be honest, the rewards I get for "obedience" similarly motivate me for a time.) But grace transforms our very being, from people who are always evaluated based upon what we accomplish to people who are beloved with no reference whatsoever to accomplishment.
We're sticking with the elf this Christmas. But one day he will go the way of Santa and the Tooth Fairy. But God, and God's grace, will remain. To disrupt, and shock, and change us for eternity.
Support our work. Subscribe to CT and get one year free.
To add a comment you need to be a registered user or Christianity Today subscriber.
Recent Posts
Help from the Elf