Who Can You Not See?
"But what I wish I had said, most of all, was, "Can you see my daughter?""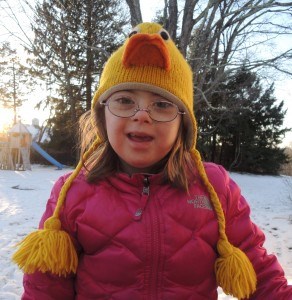 I wrote last week of an incident in which I realized Penny had appeared to be willfully disobedient, mean, and destructive (Happy Tears: Why I Believe in My Daughter). Based on what I already know about her and some gentle nudges from the Holy Spirit, I questioned that version of events. In time, by talking it through with Penny and her brother, I realized she had made some mistakes, for sure, but her intentions had been good. She needed some guidance on how to assist a toddler and how to color the Christmas tree. She needed to apologize for the consequence of her actions. But she wasn't trying to scribble on the wall or push the toddler down.
It brought me back to a scene a few weeks earlier when we were having brunch with some old friends and their friends from church. Penny was sitting at a table across the room. She was eating her eggs and ham, seated next to her best friend from school. A woman I had never met before approached me and said, "You were so brave to have more children."
Every muscle in my torso tightened. I said, "I'm very grateful for all my children."
"No, no," she said. "You must have really amazing faith. I would just be angry with God forever."
I took a deep breath and said, "I'm very grateful for all my children."
She came back one more time: "I come from a medical perspective, so I don't know that I could have handled it."
Later, I thought about saying so many other things: "Well I come from a family perspective, and our family is good and whole with Penny in it."
Or, "It actually doesn't take much faith to believe that Penny is a gift. If anything, I'm more convinced of God's goodness and presence in our lives as a result of her."
But what I wish I had said, most of all, was, "Can you see my daughter?"
****
This fall, Peter and I have been leading an adult Sunday School class using Paul Miller's Person of Jesus curriculum. In this study (which I highly recommend), Miller points out a pattern throughout the gospels in which Jesus sees someone, feels compassion, and then acts upon that compassion. See, feel, respond. It's a pattern throughout Scripture. In the Old Testament God often sees (or hears) his people in distress, is moved to compassion, and then acts on their behalf. In the gospel stories Jesus not only sees people, but he also makes a point of helping others–his disciples, the Pharisees–see them too. When the disciples encounter a man born blind in John 9, they see a problem, not a person. When Simon the Pharisee observes a woman anointing Jesus with her tears in Luke 7, he sees a sinner, not a person. But Jesus cuts through the stereotypes. Moreover, he refuses to look past people, to disregard their inherent worth and dignity. He sees them, he sees us, as full human beings. Beautiful, broken, beloved.
****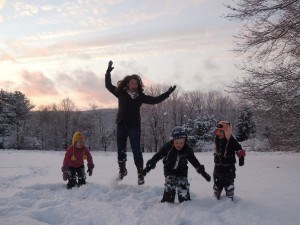 I was so angry during my interaction with that woman a few weeks back that it took me a few hours to realize she couldn't see Penny. She could see Penny's diagnosis, and apparently she filtered Penny's whole being through a "medical perspective" which led her to conclude that Penny's life was tragic and difficult and faith-crushing. She couldn't really see me either. I was just the poor parent of a disabled child. And perhaps my anger and defensiveness prevented me from seeing her as well.
When I look at Penny, I see a cute, capable, sometimes deceitful, endearing, frustrating, talented, bright, lovable little girl. I see someone who is working hard to learn how to cartwheel, someone who loves books and writing, someone who works hard, someone who lavishes hugs upon anyone she knows, someone who would put ketchup on anything, someone who aspires to lead worship in church when she gets older, someone in whom I take great delight. If she were not my daughter, I don't know what I would see. But I know that she has enabled me to see other people more fully, more clearly, with more compassion and more belief in their particular giftedness than ever before.
It is a blessing to be able to see any human being. It is a sign of the Spirit in our midst, giving us eyes to see, leading us towards compassion and away from anger and judgement.
Who do you have trouble seeing?
Support our work. Subscribe to CT and get one year free.
To add a comment you need to be a registered user or Christianity Today subscriber.
Recent Posts
Who Can You Not See?