Why Parent-to-Parent Support Matters with a Prenatal Diagnosis by Amy Geoffroy
One mother's experience of prenatal testing, and how she supports women now
I chose to run this post today, one in a series of personal experiences with prenatal testing, because it speaks to some of the problems with prenatal diagnoses and some of the solutions as well. Many people commented on last week's anonymous post about terminating a pregnancy after a diagnosis of Down syndrome, and many recognized that the decision to terminate doesn't happen in a vacuum. With increased support, more and more women might choose to continue their pregnancies, and I am grateful to Amy Geoffroy for offering her own experience here and also for offering support to countless women who wonder whether they can and should continue their pregnancies after a prenatal diagnosis of Down syndrome. Other posts in this series are listed at the end of this post.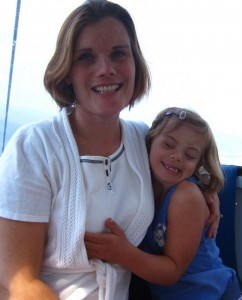 Halfway into my second pregnancy, I was given news that I didn't expect. "Your baby has Down syndrome," my OB told me. Nine years later, I still clearly recall the sleepless nights, despair, and fear of the unknown that those simple words triggered. I worried that my baby might not know me. I worried about her ability to function and care for herself as an adult. I wondered what she would look like, and selfishly, I resented that my life might change.
Shortly after the diagnosis, my husband and I were introduced to a genetic counselor to learn more about Down syndrome. While she was able to competently explain the science behind Down syndrome and the associated medical and developmental issues that might affect our child, it soon became clear that there were answers she couldn't give us. She had not worked with kids or adults with Down syndrome, and she did not personally know any individuals with Down syndrome. She did tell us that children with Down syndrome were affectionate and many learned to read and write, but that is where her knowledge stopped. Sensing our lingering questions, she gave us the name of Angela in the area, a mother of a little boy with Down syndrome.
The next day, I called Angela. As she described her son, I felt the seeds of ease and relief for the first time in days. It was clear from her story that she and her son had a great bond, which was a big concern for me. In the next few weeks, this mom continued to support me. She listened to my fears and answered my questions. Then two weeks into our diagnosis, we discovered a heart defect. As I told Angela, in that moment, facing a life-threatening heart condition, our daughter's Down syndrome meant nothing. Angela understood that mind-shift, unlike any of our doctors.
Even so, despite the constant presence and support of my awesome husband, I felt alone during the rest of my pregnancy. I had difficulty expressing to my husband and family just how worried and anxious I was. I put on a public face of acceptance and confidence, but inside, I was a mess. Looking back on my pregnancy, I wish I had connected with more families, but there were several reasons why this didn't happen, including a move to another state, at which point, I lost even the connection I had with Angela. It was a rough time.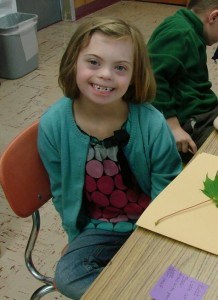 A few months later, holding my beautiful baby, acceptance was much easier. Her diagnosis faded in importance, giving way to appreciation for her big blue eyes, her smile, her giggles, and watching the connection she built effortlessly with her sister, her father, and me. Abigail's infectious personality motivated me to help women "get to the other side" of a new diagnosis.
I became engaged in the Down syndrome community, speaking to expectant parents often. I was fortunate to be put in touch with a few other moms trying to provide better resources for women with a prenatal diagnosis. In 2010, they asked me to become a trustee of Down Syndrome Pregnancy, Inc (www.downsyndromepregnancy.org) and to co-moderate the BabyCenter Down Syndrome Pregnancy online group.
The online group has served thousands of parents since its inception. It offers a safe haven for expectant parents to ask questions, get up-to-date resources, and connect with other families.  Many "graduates" of the group stick around to help provide a continuum of support and community. Congratulations are given, markers are explained, advice is offered about prenatal care "best practices," and incorrect assumptions are changed. We reference the most up-to-date research and share real stories of joys, challenges, family dynamics, surgeries and treatments, and more. We discuss new testing options, and we give hope to parents whose doctors have given poor prognoses without the appropriate data or experience to back them up. Overwhelmingly, parents are appreciative of the positive and factual support, especially as it may contrast to more negative or outdated assumptions that friends, family members and some medical professionals may share.
There is a real need out there for parent-to-parent support especially because many doctors remain unsure of how to deliver a diagnosis. Many expectant parents in our BabyCenter group report being pressured to terminate by their doctors. Others were simply given the diagnosis with no resources. Yet others say their doctors arranged genetic counseling and referrals to local support groups. This takes time, though, and in those intervening hours or days, many expectant parents start combing the internet and connecting with the BabyCenter group.
Almost a decade since my own prenatal diagnosis, I remain firmly convinced that parent-to-parent support is irreplaceable in helping expectant parents come to terms with a new diagnosis. I am grateful for the support I received during pregnancy and committed to helping other women get accurate, up-to-date information and a glimpse into my not-so-different or scary life with my beautiful daughter Abigail.
Amy Geoffroy lives in Portland, Oregon with her husband Kevin and two girls, Emily (12) and Abigail (9), who has Down syndrome. She is past president of Network21: Supporting Families with Down Syndrome (New Jersey) and a former trustee of Down Syndrome Pregnancy, Inc.  She is co-moderator of the Down Syndrome Pregnancy board on BabyCenter. Amy is also development chair for the Northwest Down Syndrome Association, which works to promote life-long  inclusion of people with Down syndrome and other disabilities in their neighborhood, school, and work communities.
Other posts in this series include:
Why I Wish I Had Chosen Prenatal Testing by Patti Rice
I Regretted My Amnio by Meriah Nichols
Doctors Need to Understand Their Patients When it Comes to Prenatal Testing and Down Syndrome by Nancy Iannone
Support our work. Subscribe to CT and get one year free.
To add a comment you need to be a registered user or Christianity Today subscriber.
Recent Posts
Why Parent-to-Parent Support Matters with a Prenatal Diagnosis by Amy Geoffroy