Imagining Down Syndrome
The prospect of disability often cuts off the possibilities of imagining a good life, not necessarily because a good life is impossible, but because a good life with a disability is unknown. Two stories that help us imagine a good life with Down syndrome...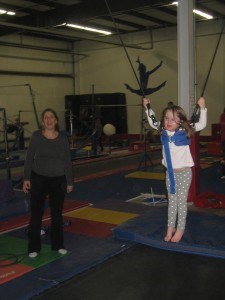 One of my projects as a writer, in broad terms, is to argue on behalf of children with Down syndrome and other disabilities. Another project is to help people imagine what life with a child with Down syndrome might be like. I assume that when I tell stories about Penny and our family people know that if they had a child with Down syndrome it wouldn't be exactly the same. Their kids would be different from mine, no matter their chromosomal similarities. But, as I have quoted here before and as I wrote in my new ebook, What Every Woman Needs to Know About Prenatal Testing:
For every pregnant woman, a baby remains a hypothetical being for a long time. Even once that baby is born, parents don't know whether she will love music, whether that straight hair will all fall out or turn curly or change color, whether he will fight with his siblings, whether her life will be marked by sorrow or by joy or both in equal measure. But from the first indication that she is pregnant, parents begin to dream about their children and who they might become. Most parents know that their dreams won't all become realities, but their dreams seem possible. When women assume they are carrying a typical child, the future holds endless possibilities. It is a place rich for imagination.

The prospect of disability often cuts off the possibilities of imagining a good life, not necessarily because a good life is impossible, but because a good life with a disability is unknown. Families with children with disabilities testify across the spectrum. Some suffer. Some experience great fulfillment and joy. Neither suffering nor joy becomes a guarantee, with or without a prenatal diagnosis. And yet stories of families who are living with children with disabilities offer women an opportunity to begin to imagine.
I came across two stories this past week that aid in this task of imagining life in all sorts of shapes and sizes, and I commend them both to you. First, George Estreich wrote a response to a news story that has gone viral in which a waiter refused to serve a man who was disrespectful of another patron of the restaurant, a little boy with Down syndrome. Writing for the New York Times in A Child With Down Keeps His Place at the Table, George writes:
As the waiter, Michael Garcia, recounted to the NBC affiliate KPRC-TV in Houston: "I heard the man say, 'Special needs children need to be special somewhere else.' My personal feelings took over, and I told him, 'I'm not going to be able to serve you, sir.' "

" 'How could you say that?' " Mr. Garcia said he asked the man before he left the restaurant. " 'How could you say that about a beautiful 5-year-old angel?' "

For many people, this will be a simple feel-good story. But as the father of an 11-year-old girl with Down syndrome, I found the story more complicated. Beyond its satisfying ending, you can learn a lot about the conflicted place of Down syndrome in the world. The casual insensitivity of the patron's remark, while not always expressed this blatantly, is all too common. And whether you call Mr. Garcia a hero or not, he unquestionably did the right thing, and his kind of bravery makes an enormous difference in the lives of people with disabilities.

As Ms. Castillo pointed out, he put his job on the line. Even more inspiring, he knew the Castillo family, who are regulars at the restaurant, and he acted in the name of connection, denying the very separation — between "special" and "normal" — that the unidentified patron implied.
Mr. Garcia is helping us imagine a world in which children with Down syndrome are treated with the respect and dignity due to every person.
Similarly, Boston Globe columnist Beverly Beckham, wrote about her granddaughter Lucy's trip to Disneyworld, Camera Can't Capture What Love Sees. She describes a wonder-filled vacation with Lucy in which Lucy was the model child:
She wanted to do the hula hoop like everyone else, but didn't have a meltdown when she couldn't figure out how. She tried for a while, then handed the hoop to another girl. She didn't throw a fit when we told her the line was too long at "Enchanted Tales with Belle" and that we would go on "Ariel's Undersea Adventure" instead. She said, "OK," and away we went. And she didn't complain, not even once, when we told her at the end of each day that it was time to go.

Most kids say, "But I want to sit here!" or "I want to go first" or "I want to sit on this horse, not that one."

Not Lucy.

To an elderly woman in a wheelchair, she asked, "What happened, Grandma? Are you all right?' To a boy who was crying, she said, "It's OK." And to me as I screamed on the "Tower of Terror," she took my hand and said, "Don't be scared, Mimi."

"I wouldn't change a hair on her head," I heard a mother of a child with Down syndrome say when Lucy was 4 or 5. And I thought, back then, I would. I would take away her Down syndrome in an instant because it would make Lucy's life easier.

But what I've learned is this isn't true. It would make our lives easier — her parents' and family's and teachers'. But Lucy is fine with her life. It's not without problems, but whose life is?
This week I will start posting a range of reflections upon prenatal testing–from women who chose testing and terminated their pregnancies to those who wished they had opted for testing to those who regret it altogether–in an attempt to help readers imagine the options available. I'm thankful to George Estreich and Beverly Beckham for helping begin that imaginative process.
Support our work. Subscribe to CT and get one year free.
To add a comment you need to be a registered user or Christianity Today subscriber.
Recent Posts
Imagining Down Syndrome