Why Should You Care About Prenatal Testing?
What people are saying about my new ebook about prenatal testing, and why you should read it too.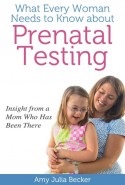 As I mentioned yesterday, I've written a new ebook about prenatal testing (info on how and where to purchase it at the bottom of this post). For the next few weeks, this blog will center around a host of questions, stories, and opinions related to prenatal testing. I've written a series of essays related to the book that will discuss relationships between prenatal testing, abortion, and ethics. We will hear from women who have chosen to terminate pregnancies based on prenatal diagnoses, women who have chosen to forgo testing, women who regret testing, and women who are grateful to have had a prenatal diagnosis. One of the major points I'd like to make is that every pregnant woman needs to consider her position towards prenatal testing before she is sitting in a doctor's office getting ready for a blood draw. Since these  tests are now offered for all pregnant women, all pregnant women will face the questions they raise. But even if you are not a pregnant woman, or even a prospective parent, this book might be of interest simply in considering our cultural posture toward chromosomal conditions like Down syndrome and other trisomies, the ethics of selective abortion, and the problems and possibilities of more information than ever before in our technology-driven world.
But before you hear more from me, let me tell you what other people are saying:
"This book is essential reading for any couple grappling with the vast array of tests that women are given, usually as a matter of course and with little discussion, when they are pregnant. Amy Julia Becker manages to simultaneously present her own strong point of view and present the facts and options in a nonjudgmental way. She approaches the topic by focusing on the practical end—what would a woman do with the knowledge she gains from prenatal tests? —which forces readers to think about what their own decisions might be and what the unique medical and moral issues of that course of action may be."

– Michael Kress, Executive Editor of Parents.com, the website for Parents, American Baby, and FamilyFun magazines

"What Every Woman Needs to Know About Prenatal Testing is a much-needed resource, particularly at this cultural moment when more prenatal tests are becoming available. Becker speaks directly to pregnant women about what prenatal testing means and how women can make informed, ethical decisions. She provides information that a woman's medical professionals often will not offer. This book doesn't suggest that there's one "right answer" for everyone. Instead, Becker discusses the range of options available—from not having testing at all to terminating a pregnancy—and acknowledges that each woman must make her own choice. She shares stories from her own pregnancies and discusses life with her children, one of whom has Down syndrome. This book is respectful, informative, and empowering. I highly recommend it."

– Alison Piepmeier, Director, Women's and Gender Studies Program, The College of Charleston

"Prenatal diagnosis is on the threshold of a paradigm shift that will leave invasive tests such as amniocentesis as relics of the past and force each and every mother-to-be, regardless of her age, to ponder the ethical question of the moral status of the embryo implanted in her body. Using that rare ingredient, common sense, and adding her firsthand experience of conceiving and raising a child with Down syndrome, Amy Julia Becker puts the science and ethics of prenatal diagnosis into a practical and wise narrative that I wish every couple could read before having their blood drawn to determine the karyotype of their offspring."

– John M. Thorp, Jr., MD, Professor and Director, UNC Women's Primary Healthcare

"This book should be required reading for all prospective parents. Much more than a scholarly report, it provides a clear, nonjudgmental, and up-to-date guide to prenatal testing. The book is born of Amy Julia Becker's evolving thoughts on the subject after she became the mother of a child with Down syndrome. Her measured presentation of the particulars and ethics of prenatal testing, coupled with her reflections on the unanticipated relational and spiritual gifts of human limitations, make for an engaging and thought-provoking read. Highly recommended."

– Jennifer Grant, author of Love You More: The Divine Surprise of Adopting My Daughter and MOMumental: Adventures in the Messy Art of Raising a Family

 "Today's expectant parents can, through increasingly sophisticated and early prenatal tests, obtain much information about their babies-to-be. But paradoxically, they often lack information that would help them answer necessary questions around these tests, including whether to have them at all, how to interpret results, and what to do after receiving unexpected news. While clinicians can expertly explain the "how" and "what" of prenatal tests, parents often struggle alone with the "why" and "what next." Into this confusing, emotional environment comes Amy Julia Becker's excellent e-book on What Every Woman Needs to Know About Prenatal Testing. Becker's core argument is that parents would do well to consider the complex questions raised by prenatal testing as early in pregnancy as possible (if not before). While she is up-front about her own leanings, informed by her experience as mother to a child with Down syndrome, Becker does not argue that particular decisions about testing are the "right" ones. Rather, she shares her own story, raises key questions, and encourages readers to seek additional counsel to answer those questions for themselves. Becker's book is a reliable and accessible first stop for parents beginning the journey to parenthood in our technological age."

– Ellen Painter Dollar, author of No Easy Choice: A Story of Parenthood, Disability, and Faith in an Age of Advanced Reproduction

"When I carried my children I had very little working knowledge about the medical and ethical implications of the routine testing to which I was agreeing and that which I was rejecting.  I suspect I am not alone in this!  Today, I wish I'd had access to this resource, from such a trusted source as Becker, as a guide through a sometimes-confusing journey.  Clearly written, it is a gift to every parent who wants to make informed decisions for themselves and for their children.  Thank you, Amy Julia Becker."

 – Margot Starbuck, author of Small Things with Great Love: Adventures in Loving Your Neighbor
You can purchase the book for your Kindle, Nook, iPad, or even on your computer. (You'll need to download an ereader app if you don't have one already.) Please also consider sharing the link to this book with your friends who might benefit from reading it. Thanks.
Support our work. Subscribe to CT and get one year free.
To add a comment you need to be a registered user or Christianity Today subscriber.
Recent Posts
Why Should You Care About Prenatal Testing?