A Trip to the Zoo, or Why Inclusion Matters
We went to the zoo. It was a simple, lovely day (only made possible by Penny's inclusion in a regular first grade classroom).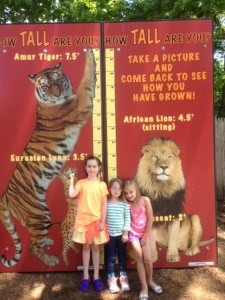 A few weeks ago, I accompanied Penny's class on a field trip to the zoo. We piled onto the school bus with its high-backed seats and bumpy ride and we cracked the windows to let some cool air flow in. I was responsible for Penny and two other little girls as we strolled the grounds, looking for animals, tasked with categorizing each one. Mammal. Amphibian. Insect.
It was a simple, lovely day. Anna* jumped up and down when she discovered a real live newt, the animal she was studying in school. Isabelle* begged for a camel ride, which I denied. Penny's favorite animals were the swans, because they reminded her of Trumpet of the Swan, which we happened to be reading at home. We saw the tigers and the monkeys. We ate a picnic lunch. We saw a peacock fan his tail like an enormous Chinese fan.
On the bus ride home, Anna asked if she could sit with Penny and me. They played with each other for a while—drawing on whatever electronic game system Anna had brought with her, looking at photos and videos. At one point Charlie*, three rows ahead of us, popped his head up and said, "Where's Penny Penny Bo Benny?" I pointed her out, and he said, "Hi Pen. I was just checking." She waved in response.
They sit next to each other in school, and she has recently come home with gifts he has given her, including a picture of himself. She keeps it on top of her dresser. Maybe he was checking in on her because he missed her.
It was a simple, lovely day in which my daughter was just a kid on a field trip with her friends. Discovering that she likes hard boiled eggs. Stroking the softer than soft fur of a chinchilla. Jumping up and down with excitement when Isabelle offered a piggy back ride. Becoming friends.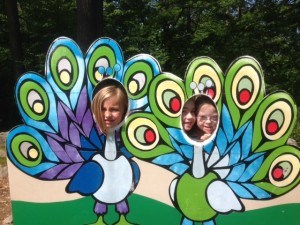 I read an article from the Chicago Tribune recently about a young man with Down syndrome who was the first to graduate from a Catholic high school out in Illinois. His brothers had attended the school, so his parents decided to ask if he could go there too. According to the article:
Living up to his father's prediction — and demonstrating the success of a remarkable initiative Notre Dame hopes other Catholic schools will emulate — Ryan Burke, 19, graduates Saturday. His yearbook features pictures of him on the swim team, student council and marching band.

He also has something perhaps more precious — memories from four homecoming dances and two proms, as well as a cellphone filled with messages from friends he's made along the way.
The article reported that the school intends to enroll ten kids with special needs next year. It didn't say why or what changed, but I imagine that having Ryan Burke among them made the whole community realize that inclusion worked–for everyone. Including Ryan Burke was good for Ryan, sure, but I suspect it was also good for every other kid he encountered. Just as I suspect that having Penny in this classroom is good for every one of her peers.
Penny's friends are young enough that they don't even need to be taught that she isn't really different from them just because she has one chromosome more than most. They learn of their commonalties because they giggle and play and read and write and eat lunch together. They notice the differences—that she has braces on her ankles and needs more help sitting still—but they notice them in the context of shared space, shared experiences, shared learning. Not in the context of separation. I can only imagine what these simple acts of belonging will mean for the rest of her life. I can only imagine how they will enrich one another.
We went to the zoo. It was a simple, lovely day.
*None of these are their real names.
Support our work. Subscribe to CT and get one year free.
To add a comment you need to be a registered user or Christianity Today subscriber.
Recent Posts
A Trip to the Zoo, or Why Inclusion Matters