Life with Down Syndrome in Zambia
An interview with a mother of a child with Down syndrome in Zambia in honor of World Down Syndrome Day.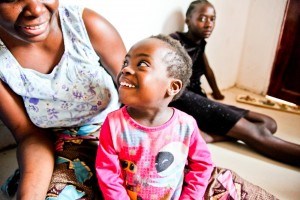 Image: Photo credit to Mallory MacDonald Media (www.mallorymacdonald.com), copyright Special Hope Network.
In honor of World Down syndrome Day this Thursday, I am running a series of guest posts from around the world to describe what it is like to have Down syndrome in various places. Yesterday's post reflected on life in Poland. Today we hear from a mother in Zambia, who was interviewed on my behalf by Beth Bailey of the Special Hope Network: 
Can you tell us a little bit about your family–how many children you have, what their ages are?
I am Mrs. Priscilla Shamabanse, I am married with 5 children.  Salafina is 14 years old, Charles is 12 years old, Natasha is 10 years old, Sarah is 5 years old and has Down syndrome, and Karen is 3 years old.
What are a few things you love and appreciate about your child with Down syndrome? 
I love my child just the way she is, so different but awesome.  I also love the way she looks- her appearance shows some of her character.  I love that she is usually happy and smiling and makes others happy and smile!
What are some of the challenges you face in raising your child? 
Some of the challenges we face in bringing up Sarah involve her health.  She is prone to sickness and easily becomes weak and tired due to just a small illness.  It also seems to us that she is not growing as she was earlier in her life.  She is still very short and doesn't eat as expected.
When did you find out that your child had Down syndrome?
I got to know that my child was different from others when she was about 9 months old.  She couldn't sit up on her own.  I took her to the hospital, and a doctor there me that she had Down syndrome.
Did you know anyone else who has Down syndrome?
No, Sarah was the first one I ever knew.
What were your impressions of living with Down syndrome before you had your child? What are they now?
I had no impression of any kind because I had no idea that Down syndrome existed.  It took some time for me to realize for sure and understand that Sarah had Down syndrome.
How did your family and friends respond to the news that your child has Down syndrome?
My friends and family made fun of me.  They said I was "cursed" and that I must have done something wrong during my pregnancy.  As for my husband, he supported me though he had no idea what Down syndrome was.  
What does your culture believe about Down syndrome? 
My culture believes Down syndrome is a curse, on the child, but also on the family.  It is believed that Down syndrome can be caused by an act of witchcraft.  It is also believed that such a child was born because the mother tried to abort the child or because something was wrong with her birth control pill.
If you could change something about how your culture views Down syndrome, what would it be?
I would want to change their beliefs.  I would want them to know, love, and care for anyone who had Down syndrome.  I want them to understand that it is God who wills everything.  He willed for us to have our lovely daughter, Sarah, and we are thankful.
Special Hope Network just launched their Child Sponsorship program,. Sarah has already been sponsored, but other children with Down syndrome are available to sponsor.  Read more about sponsoring a child with Special Hope Network and make a difference in the lives of an entire family.
Support our work. Subscribe to CT and get one year free.
To add a comment you need to be a registered user or Christianity Today subscriber.
Recent Posts
Life with Down Syndrome in Zambia