What to Do When Your Daughter Locks Herself Into the Bathroom in 7 Simple Steps
"Shove copious amounts of Halloween candy under the door to alleviate the tears."
1. Assess the situation and realize, after ten minutes of coaching, that this door is very old and it involves a deadbolt with no external release mechanism.
2. Tell your daughter that unless she can turn the lock the opposite way, you will need to get someone to cut a hole in the door. Repeat. Repeat.
3. Pray. Smile when your other daughter suggests singing Amazing Grace.
4. Shove copious amounts of Halloween candy under the door to alleviate the tears.
5. Ignore the poopy diaper
6. Enlist your son as helper to provide distractions, but only very thin distractions that can fit under the 1/4 inch sliver of light at the bottom of the door. Be sure to include paper and a pen so she can write a note asking for help: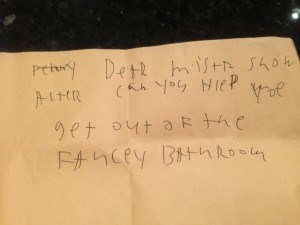 7. Call as many people as possible until someone responds with a crowbar and a toolbelt
When she's out and she's safe and she's a little embarrassed, hug her and hug her and hug her again. Abandon piano practice. Read Mrs. Piggle Wiggle. Sing her to sleep.
And then, when you are turning off the lights and locking all the doors at 8:25 (because you got four and a half hours of sleep last night and your youngest daughter had ear tubes put in this morning) and you notice that the light is on in the other bathroom and you go to open that door and turn off that light and you realize that it is locked from the inside, give thanks that no child is stuck on the other side. And then, laugh.
Support our work. Subscribe to CT and get one year free.
To add a comment you need to be a registered user or Christianity Today subscriber.
Recent Posts
What to Do When Your Daughter Locks Herself Into the Bathroom in 7 Simple Steps