Best Play Date Ever: Down syndrome, fear, friendship, and hope
Why has my fear that Penny wouldn't make friends continued all these years?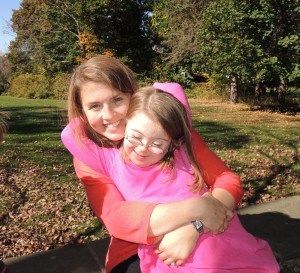 One of my biggest fears for Penny when she was diagnosed with Down syndrome was that she wouldn't have friends.
The other fears I had in the hospital all those years ago have dissipated. Some–like my fear that I wouldn't love her as she continued to grow up–seem laughable now. My fear that I wouldn't be proud of her, or that I would feel insecure in public with her. My fear that I wouldn't see her as beautiful. My fear that we wouldn't share a love of reading. Those fears were unfounded, and her life has easily and always proved me wrong.
Other fears have floated away through a process of personal growth and transformation. I was afraid of Penny's vulnerability. She is still vulnerable, but I have become more open to neediness and limitations through her. I was afraid of the logistics of medical care and education. But my perspective on regular checkups and minor surgical procedures has changed. For one thing, Penny's health concerns have been minimal compared to what I feared. For another, I've learned to enjoy the time with her as we drive an hour away to check her ears and talk about school and tell stories and enjoy time together.
Still, this one fear–that she won't have friends–remains. Why?
There's the guilt. That I could have, should have, done more when she was little. That we moved so frequently (four different schools in as many years) she couldn't even make friends. That I'm not the mom who thinks up crafty activities that two little girls will love. That I'm not the mom who initiates and works hard on her behalf all the time.
There's also the fact that my hopes for her have not changed on this front. I still believe that friendship matters deeply. And it is not something I can give her. I am dependent upon the choices of others–of other seven-year olds, at this point–to receive her friendship and to give it in return.
And so, when Caroline came over last month, and the two of them spent two happy hours without any intervention from me, with big hugs at the end of their time together, I couldn't help but wonder whether this is a real friendship in the making. And then, when it happened again last week and the two of them played lock down drill (um, can we say "new era for our children") and getting married (Penny to Fred, Caroline to Max) and ran outside to swing on the monkey bars, I started to believe it.
I still pray, often, for Penny to have friends and to be a friend to others. But my prayer is no longer a prayer of fear. It is a prayer of hope.
Support our work. Subscribe to CT and get one year free.
To add a comment you need to be a registered user or Christianity Today subscriber.
Recent Posts
Best Play Date Ever: Down syndrome, fear, friendship, and hope