Do Your Kids Practice Yoga?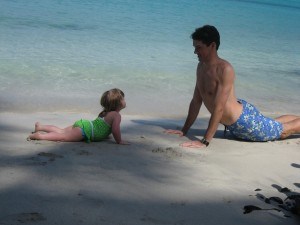 Should yoga be banned in public schools?
I joined two other writers to try to answer this question for the September issue of Christianity Today:
My children began to learn yoga through our local public preschool a few years ago. They came home eager to show me "butterfly," "snake," and "dog" poses. At the school's Mother's Day celebration, they showed off their skills with a mixture of stretches, creative movement, and feeble attempts to sit still and breathe calmly.
Although I attended a regular yoga class myself, I was somewhat concerned that my children were learning yoga in school. I knew about its Buddhist and Hindu roots. I didn't want my kids to be indoctrinated. And it felt almost like an affront that they might be taught yoga in school, but wouldn't learn about Christmas or Easter there.
Once I thought it through, I realized that my kids were benefitting from the same aspects of yoga I experienced in my local studio. My kids weren't being asked to raise their hands in prayer or to chant, "Om." There were no statues of the Buddha. Rather, they were learning strength, balance, and flexibility. They were learning how to quiet their minds and bodies. They were learning that physical challenges can happen beyond the athletic fields and competition.
To read more go to Should Yoga be Banned in Public Schools as a Religious Activity?
Support our work. Subscribe to CT and get one year free.
To add a comment you need to be a registered user or Christianity Today subscriber.
Recent Posts
Do Your Kids Practice Yoga?