A Doctor Faces His Own Suffering
How one man found joy in the midst of debilitating physical pain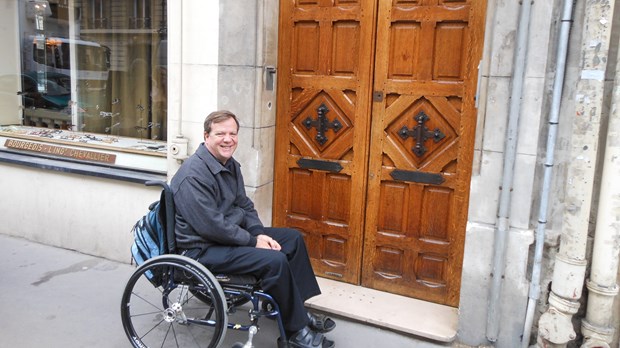 So much pain. I was at what should have been the prime of life. Med school finished, internship and residency done. Two kids and a wonderful wife at home. But there was so much pain.
I was a rheumatologist practicing in Roanoke, Virginia when I began to have discomfort in my feet. I instituted the usual interventions that I told my patients about every day. But the pain did not diminish. In fact it increased. And strange sensations started to occur in my legs and feet. I quickly became unable to complete a day's work. On my fortieth birthday I was diagnosed with Charcot Marie Tooth Syndrome, an inherited peripheral neuropathy. My father had this illness.
I remembered praying for my dad for years, even decades, for healing which never came. This illness is expressed as weakness and numbness along with pain in the extremities. My dad always had difficulty walking any great distance. His physical endurance was not good and he could never participate in any type of physicalIy demanding activity. Our family was always the family that was different. While growing up I was always the strong one in the family. If chores required physical activity, they usually fell to me. I had never known I carried the gene, but it had been with me always.
The pain progressed to the point that I had to drag myself to the bathroom. I could not tolerate the searing discomfort that came with standing. I was unable to drive and only left the house on Sundays, when, with great difficulty, I used a wheelchair to get in and out of church. For a year, there was little sleep, little activity, just the constant pain that dominated my life 24 hours per day. I went to all of the major medical centers within a day's drive. The diagnosis was confirmed but there were no suggestions for treatment.
During this time I did not ask questions. Just getting through each day consumed all of my energy. I had faith from before and I had friends from church and these two things sustained me.
With much trial and error, my neurologist eventually found drugs which gave some relief. I was finally able to sit up and look around and consider life again. I began reading the Bible again, starting with Job. I was still largely confined to the house but I was able to begin to play a little music. And I even started to work a bit, reviewing medical charts and working with computer programs.
One day my daughter, in seventh grade, came in. "My feet hurt" were the only words I heard. Within a few months, she required a wheelchair to go to school.
I had already lived a good bit of my life. I had a faith that had carried me through. But why Anna, who had certainly never hurt anyone. Who had such a gentle spirit. There was nothing I could do. I knew the life she had ahead. Never being the same as everyone else. Never able to participate with the group. So many difficulties. So much pain.
Where is meaning in this situation? This is a genetic problem, it only gets worse. I am trapped in the very situation which non-Christians hold up to argue against the existence of God. How could a loving God allow what seems like such meaningless and undeserved suffering?
The book of Job took me through the options for meaning in the face of suffering. In the end, Job learns to serve God for God alone, with total trust. Suffering burned away Job's superficial understanding of God.
Then there is Jesus. Jesus came and suffered in a very intentional way. He looked suffering in the face and made a conscious decision. His decision was to embrace suffering—suffering more severe than mine, or even Anna's-- in such a way as to change us forever. And the foundation of his decision was love. Jesus lived a long time ago. However, there is no one else who can walk with us in the depths of suffering. There are no other examples. Though the duration of his life on the earth was long ago, he continues to walk with us. For me, suffering brought his walk to my time on earth.
It is hard to talk about suffering. The subject makes most people uncomfortable. I can't say I received much help from my brothers and sisters at church. But there were a few books that helped me along my path, including Tim Keller's Biblically-based "Walking With God Through Pain and Suffering," Peter Kreeft's more philosophical approach, and C.S. Lewis' personal story in "The Problem of Pain." These authors have been my best friends through this time.
My process of understanding was not instantaneous. But as time went by, I was startled to discover joy. Joy in seeing my Christian brothers and sisters. A new found joy in Sunday services, in the liturgy and in Christian music. All of the hymns and contemporary songs that mention joy, their messages suddenly shot straight to my heart. I have been a Christian for most of my life but I had never felt this. With just a little reading, I discovered I was not alone but in the company of St. Augustine, Thomas Aquinas, C.S. Lewis. Joy is a sensation past even happiness. It is one of the most sought after things on earth. Suddenly, here it was for me in the most unexpected of places.
Life is still difficult. I still must arrange my day around pain, but I know that is not the point of my day. It is not the point of my life. I don't know exactly how to communicate this to Anna. In a way it is easy to write the words and it is difficult to walk the walk. Her walk is different from mine.
At least I know there is a way. Total desolation is not our fate. Desperation and hopelessness are feelings of this world that need not define us.
There is love now and, most unexpectedly, there is joy.
Tim Henshaw is a physician in Roanoke, Virginia. This piece is a part of the Perfectly Human series, in which writers reflect upon life with a disability. More Perfectly Human pieces include: Sinless Down Syndrome Angels, or Something Else? by Margot Starbuck, and Including People with Disabilities in Your Church by Matt Floding, among others.
Support our work. Subscribe to CT and get one year free.
To add a comment you need to be a registered user or Christianity Today subscriber.
Recent Posts
A Doctor Faces His Own Suffering