Enough Time to Pray, Even as a Mother: An Interview with Micha Boyett
The author of Found talks about prayer, parenting, and grace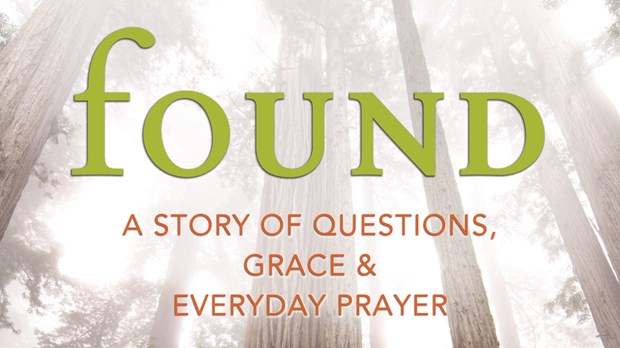 I first happened upon Micha Boyett's blog, then called The Mama Monk, a few years ago. A young mother trying to figure out how to reimagine her life as a Christian now that she had small children and housework rather than "official ministry" to do, a young mother who could write about children, prayer and laundry with a practical but poetic sensibility—I was hooked. I've been reading her blog ever since, and for a long while I've been looking forward to Micha's book, Found: A Story of Questions, Grace, and Everyday Prayer. I'm delighted it has arrived.
Micha wrote a guest post for her.meneutics last week (The Crisis of Faith We Don't Expect When We're Expecting), and she's here with me today to answer some of my questions about prayer, parenting, and Benedictine spirituality:
The title of your book suggests that you "once were lost but now are found." Although these words come from an historic Christian hymn, they are also associated with contemporary conversion narratives. In what way is this book a story of conversion?
This is definitely a story about conversion, but it's a very different sort of conversion than your usual "lost to found" narrative. Found isn't a story of having strayed from the faith of my childhood and then returning. It's more a story of the daily choosing of my faith, the growing up of my faith.
The book begins in a moment when my faith was in a crisis of performance. I wasn't living up to my ideal version of a Christian. I wasn't praying and I couldn't seem to fix myself. In this book I set out to rediscover prayer, and what is revealed is my own inability to live up that task. I need to be rescued. It's the journey of my realization that prayer is less about my own performance and more about God discovering me.
You grew up as an evangelical and then went through a spiritual journey that incorporated aspects of Benedictine spirituality. How is Benedictine spirituality different than the faith of your childhood? Would you call yourself an evangelical now?
When pressed, I still call myself an evangelical, even though that word carries a lot of political baggage that I'd rather not have attached to my faith. But the churches I've been part of and the communities that have most affected my life are evangelical. My mentors, my pastors. My theology is deeply planted in the evangelical view of scripture and the life of faith.
Learning other ways of prayer from the great canon of ancient Christian thought and practice has opened me up to much more freedom in my spiritual life. Other ways of prayer have allowed me to pray in a way that isn't so focused on myself. And liturgy, like the Psalms, has given words to my experience of life and God that I can't always come up with on my own. The story of my book begins in a time when prayer felt impossible and overwhelming for me. But I really think, looking back, that the notions of evangelical, free-flowing prayer was the thing that felt impossible. Once I had someone giving me the words to come to God, I was able to step over an invisible hurdle. I just needed a new way. And that new way to God's presence opened up a much more freeing space. Prayer began to feel a lot less impossible.
How did you become interested in Benedictine spirituality?
I came to Benedictine spirituality through one quote in Kathleen Norris' book, The Cloister Walk. In her preface, she mentions that the Benedictines have always believed "there is enough time in each day for work and study and rest and prayer." As a mom, I thought maybe I'd found the Holy Grail. Maybe there was a way to have enough time in the day to be everything I needed to be!
The story of the book is what I actually began to learn through applying the Rule of St. Benedict to my life: that "enough time" is not a five-step plan, some secret sauce that nobody else has figured out. It's a spiritual condition of believing that there is enough time because God is enough, because God is making me enough. It's leaning into the reality of grace.
You found grace through the "Rule" of St. Benedict. Many Christians would say that grace and rules are opposed to each other. What is Benedict's Rule, and how did it help you find grace?
St. Benedict lived and wrote his rule in the 6th century, at a time when a lot of men and women were coming to faith in Jesus and then running out into the desert to devote themselves to prayer and celibacy. Before Benedict, this monkish pursuit was mostly an individual thing, even though there were a handful of gathered communities. What Benedict did was give order to those communities and, I think in some ways, give legitimacy to the idea that community mattered for those who were devoting their lives to prayer, that community might not just be for the "weak" monks who couldn't sustain the difficulty of living in a cave alone.
Benedict wrote a "Rule" for his community that is both practical and spiritual. So it sets out the different necessary daily tasks in the monastery: rules for meals, rules for how guests should be received, and for how monks should interact with one another, but it also points to Benedict's theology. It's a deeply spiritual book, even as it deals with mundane instructions for daily life together in the monastery.
The Rule is definitely a 6th century document. There are places that make me cringe (especially where it talks about discipline for the children who talk during prayer services, etc.). But what I find in it is a way of looking at the daily tasks of life through a holy lens. In that sense it became an invitation to enter grace, to discover the freedom to celebrate that the ordinary in my life is actually holy, because God is here in it.
How has being a parent changed and shaped your faith?
The story of this book is really the story of my learning to believe that I am loved fully by God, outside of my performance. And that sense of peace, that ability to rest in the grace of God, has helped me become much more at ease with the "ordinariness" of this season of my life. And I think my boys and my husband experience that on a daily basis. I'm a different mom than I was three years ago, because the process of coming into a new way of prayer has helped me learn to believe that God's is finding me, restoring me, here, right now. I don't have to be internally frantic. That has really changed everything.
Are you teaching your children how to pray? What does that look like?
We pray around the table before dinner and I think that probably looks pretty typical. My kids think it's really funny to end dinner-prayers with the pledge of allegiance. So we're working through that! My husband and I pray for them before bed as well and sometimes they pray for friends and family. So that all looks very typically evangelical, I think.
In addition to those things, I really want to be careful to present prayer as a way to experience the God who loves them. I don't want them to come into adulthood with a view of prayer as a way they have to perform for God. So one of the ways I'm finding I can come at prayer from that angle is to emphasize the Psalms in the same way the Benedictines do.
I discovered a beautiful children's book of Psalms (Psalms for Young Children) that summarizes many of the Psalms and has beautiful illustrations. It emphasizes the whole gamut of emotions found in the Psalms in a tender, gentle way that my kids really get. A psalm might say something like, "God, why do I feel so alone right now? Where are you when I'm afraid?" So we read through them, especially when my kids are feeling worried or sad, and we can talk about God's love for them in the midst of their joy or their sadness.
For someone who is new to the idea of Benedictine spirituality but interested in learning more, what would you suggest?
I mention a lot of books in Found. But my favorite Benedictine author is Esther de Waal. Her books Seeking God: The Way of St. Benedict and Living With Contradiction: An Introduction to Benedictine Spirituality just clicked with me. Also, The Benedictine Handbook has been important. It includes the Rule of St. Benedict and some reflections from monks on his teachings. It also includes a prayer guide, which I like to go back to from time to time. Also, Macrina Wiederkehr (a Benedictine nun) has a beautiful book called Seven Sacred Pauses: Living Mindfully Through the Hours of the Day, which works more as a devotional tool, taking you through the daily hours of prayer and offering scripture or poems or reflections to meditate on during those specific moments of prayer.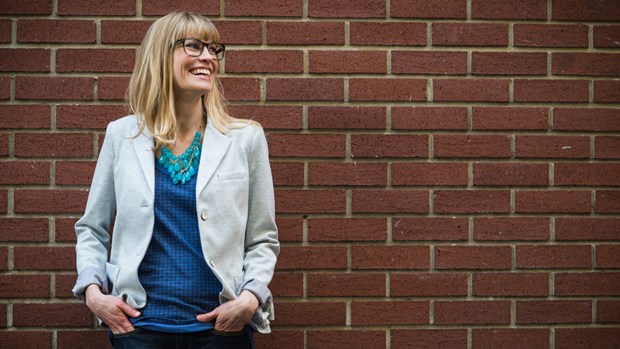 Micha (pronounced "MY-cah") Boyett is a writer, blogger, and sometimes poet. A former youth minister, she's passionate about monasticism and ancient Christian spiritual practices and how they inform the contemporary life of faith. Her first book Found: A Story Questions, Grace, and Everyday Prayer released this week. Boyett and her husband live in San Francisco with their two boys. Find her on Twitter, Facebook, and at michaboyett.com.
Support our work. Subscribe to CT and get one year free.
To add a comment you need to be a registered user or Christianity Today subscriber.
Recent Posts
Enough Time to Pray, Even as a Mother: An Interview with Micha Boyett