What Easter Has to Do with My Everyday Life
Why am I surprised that God is willing to enter into the smallest problems, concerns, and details?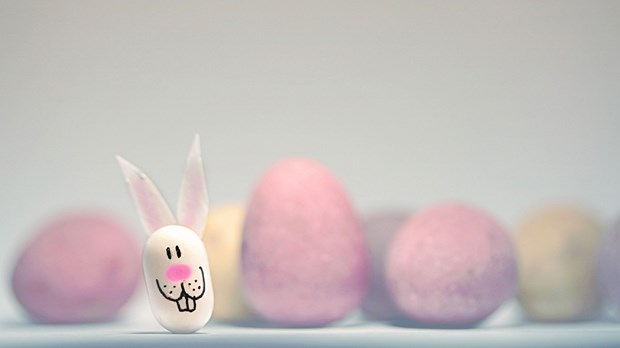 Image: Neal Fowler/Flickr
It was a long week.
Penny, my eight-year old daughter, was on spring break. William (5) and Marilee (3) were not. My husband Peter was out of town. So I decided to pull William and Marilee from school and go to the Connecticut shore, where we have a family beach house. We got there Monday afternoon. It was cold and windy, but the sun was out. We picked up stones and the kids walked barefoot on the sand and ran away from the frigid water. But the next morning, it was raining. It rained all day, a cold hard blustery rain. A rain that then turned to ice and snow. Not exactly my vision for spring vacation at the beach.
Meanwhile, I was thinking about Easter. I didn't have Easter outfits for anyone. I didn't have candy or books or bathing suits, the things my mother used to put in our Easter baskets. I didn't have a plan for a special meal. And with Peter gone and Penny on break, I didn't have any time (or much motivation, truth be told) to rectify this situation.
I felt twinges of guilt about my lack of maternal domestic instincts. My mood got even worse when the kids started to bicker with each other. They fought over who got to sit in the "special" chair. They fought over whose fault it was that the orange juice spilled, again. They fought over who got the yellow marker and who got to feed the cat and what we would eat for lunch. And before too long, I was yelling right back at them.
It all felt so very distant from the events of Holy Week. So disconnected from Jesus' entry into Jerusalem, his preaching about justice, his concern for the disciples' well-being. So petty in comparison to his unjust trial and brutal execution. So menial compared to the eternal and cosmic stakes of the cross and resurrection.
But in the midst of this inner turmoil, in the midst of the voice telling me I should be a better mom in both American terms (bake a cake, buy some baskets, dye some eggs, cherish these moments with your precious little ones because soon they will be gone) and in spiritual terms (practice some spiritual discipline that connects you to the events of Jesus' final week, teach your children about Good Friday, read the accounts of the crucifixion, do something, anything, to acknowledge the most important events of the church year), in the midst of it all, I was reminded of a friend's recent question: "Why am I always so surprised when I need to pray about the same things every day? Didn't Jesus tell us we would need to pray for our daily bread?"
Why I am surprised when I need help, again, being kind to my children while they swat at each other? Why I am surprised when I need to pray for guidance about Easter baskets? Why am I surprised that God is willing to enter into the smallest problems, concerns, and details?
Jesus did indeed instruct us to pray, "Give us this day our daily bread." Every day, he implied, we will need to ask for help with our most basic needs. Help making good choices about food and drink. Help caring for our kids or for our parents or for our neighbors or for ourselves.
Jesus didn't die on the cross or rise from the dead in spite of the dailyness of my every day life. He died on the cross knowing that daily life would remain exactly what it has always been. Burdensome and lonely at times. Mundane and repetitive at others. And always, moment by moment by moment, a place into which his gracious, hospitable, loving spirit could pour forth.
At the end of this week that seemed divorced from the church, this week that involved more bickering as it did piety, I asked my daughter Marilee, "Do you know what happened on Good Friday?"
She shook her head, blonde curls bouncing, eyes earnest and staring up at me.
"Jesus died," I said.
Her eyes got even bigger, with an expression of shock behind them. "Mom!" she said sharply, "Can he still live in my heart?"
"Sweetie, on Easter God brought Jesus back to life again, so that he could live forever."
"YAY!" she shouted, eyes aglow with hope once more.
God brought Jesus back to life for all sorts of reasons, starting with the big and important ones like vindicating Jesus' life and his peaceful kingdom. But God also brought Jesus back to life so that he can live in us, so he whisper to us on those rainy, cranky, not-feeling-holy-at-all, days. So that we can ask him for our daily bread, our daily dose of patience and humility and laughter and grace.
The Lord is risen.
He is risen indeed. Alleluia.
Support our work. Subscribe to CT and get one year free.
To add a comment you need to be a registered user or Christianity Today subscriber.
Recent Posts
What Easter Has to Do with My Everyday Life