Model Minorities: Welcome to the Church
But stay away from our daughters. A guest post by Romesh Wijesooriaya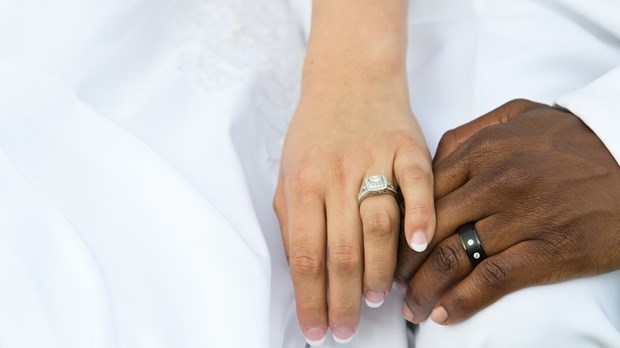 Image: picture dustin/flickr
"Romesh, sorry, we can't 'go together' anymore, my mom says I'm not allowed." --my first girlfriend in 6th grade, who was part of a white evangelical family.
"Romesh, we are not allowed to date, the Bible says that interracial dating is a sin." – my best girl-friend in 10th grade who was a committed follower of Christ.
"Romesh, why don't YOU date Anushka, she is so amazing and so pretty." – countless white evangelical male friends. These friends never seemed to consider asking Anushka out themselves.
"Romesh, don't you think it is unfair to your future children to force them to be "mixed"? Childhood and life are hard enough already without the confusion of having to deal with a mixed identity." - Numerous well-meaning white Christian friends and acquaintances attempting to provide wise counsel as I thought about marriage.
As a 37-year old south Asian (Sri Lankan) male who grew up in central Africa and then moved to Atlanta when I was 10 years old I have always been an "other". I have never existed as part of a racial majority. My awareness of my racial otherness developed when I was roughly 5 years old. Initially I simply noticed that there were not many other children who looked like me. I do not recall feeling scared or ashamed or superior or confident about this difference. It simply was a fact. I am other.
The value I was assigned by my peers due to my otherness developed over time and changed depending on age and environment. In a pick-up game of cricket (a sport dominated by Asians) where I knew no one I was routinely picked first. In a pick-up game of basketball where I knew no one I was picked last. When I moved to a new school I was immediately asked to join the math and science team. I was never recruited to join the poetry club. Many of these generalizations I came to accept and often personify. Again, I don't recall having any particular emotion when I realized these expectations were being foisted on me after a quick glance. As most children (regardless of race) learn quite early, our peers grade us primarily on superficial evaluations of our physical appearance – height, weight, color, beauty/good looks, clothes, hair style, lack of acne, too much acne, etc. However, my skin color trumped all of my other superficial qualities in the land of first impressions. My otherness was defined first and foremost by the pigment of my skin.
As I grew into the awkwardness of adolescence in the middle of a predominantly white American suburb outside of Atlanta, Georgia, my skin color and the otherness it represented was brought into sharp focus very quickly. Even as I was being chosen by my peers and coaches and teachers to be the captain of sports teams and academic clubs, even as I was embraced as a best friend and confidant, a very clear "Whites Only" sign still hung boldly over the "family room" in the white American house. This is the room that all people groups guard most carefully because it represents their most valued possession – their children. The fact that it still hung over that particular room made me wonder about its presence in every other room. Perhaps, more importantly for me, it made me wonder about MY place in every other room. Ultimately, it made me wonder about my place period.
Throughout my adolescence and young adulthood I encountered this "Whites Only" sign hanging over my white female friends. The sign is not unique to white America. I became aware of similar signs being displayed prominently in black communities and Asian communities and other ethnic communities I encountered. The desire to protect our most valued possessions from the "other" is a universal tendency. Sometimes strangers presented this sign to me; sometimes my closest friends held the sign up high.
I was especially unnerved when I began to notice that the Church held the sign up more boldly than anyone else. From the church pulpit and from Christian friends and leaders I encountered scriptural arguments that emphasized the importance of racial and national purity as part of God's created order. Both my pastor and my best girl friend in high school told me that in Genesis—when Isaac chose Jacob as his favored son and commanded him not to marry a Canaanite woman—we see evidence of God's desire to protect a certain racial order. The argument went that since Canaanites were of a darker skin color we can assume that God did not want dark and white to mix. Little was mentioned of the fact that the Canaanites worshipped different god(s) and that this might have been God's central concern. The assertion was that national and racial/ethnic identity supersedes spiritual identity, even in the eyes of God. And that a racial hierarchy exists within God's Kingdom. This argument implies that I, as the "dark other"/the Canaanite, am less beloved by our God.
I am now married to an amazing white woman whom I met in college. We have two boys (7 years old and 4 years old) whom we adore and who are our most treasured gifts (Well, most of the time we see them this way). I now know what it means to dream for one's own child. I also know that my dreams for Chanan and Paxson reveal the deepest and the darkest parts of my own heart. As I dream for my children I have come to see how easy it is for fear to trump hope; for a desire for their safety and comfort to displace a desire that they would experience and participate in Christ's radical love; and for uniformity to be mistaken for unity. As I think about whom my children will befriend and one day perhaps marry, I am confronted with my racism and my classism and countless other –isms that I don't want to believe are true about myself. I am confronted with the fact that I too often worship my God at an altar that is built on fear rather than on hopeful love.
Father, forgive me.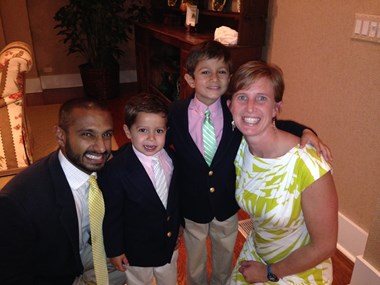 Romesh is married to Lawson and together they do their best to keep up with their 2 sons: Chanan (7) and Paxson (4). They reside in an inner city neighborhood in Richmond, Va. Romesh is an assistant professor of pediatrics at Children's Hospital of Richmond (CHoR) at VCU where he currently serves as the Division Chair of general pediatrics. Romesh currently serves as president of Urban Hope, an affordable housing non-profit in the city of Richmond. Life is rich as they continue to learn about what it means to live out the Christian call to be a "good neighbor" in their little corner of the world.
This post is one part of a three week series exploring race and reconciliation within the church. To read the entire series, click here.
Support our work. Subscribe to CT and get one year free.
To add a comment you need to be a registered user or Christianity Today subscriber.
Recent Posts
Model Minorities: Welcome to the Church