On the Ground in Ferguson
Beauty, lament, and sitting together at the foot of the cross.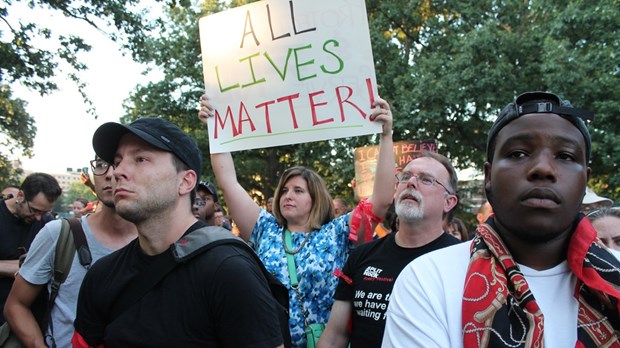 Image: Elvert Barnes/Flickr
Leroy Barber, Global Executive Director of Word Made Flesh, has been a leader within the evangelical community for over three decades. This past week Leroy joined other leaders in Ferguson in the wake of Michael Brown's death. We asked Leroy what's been on his mind during these tumultuous days.
You run an international organization that keeps you busy around the globe. Why did you decide to go to Ferguson?
When I heard about what happened there, my first thought was honestly about my older sons. One is twenty-four and the other is twenty-one. They are both college students and young adults. I thought, "Where are they right now? This could possibly be them." I ran those questions through my head and it touched me in a different place, a deeper place. The Trayvon shooting also hit me pretty hard.
As for Ferguson, I felt drawn to be there and walk with the family. I saw a clip on the news when this mom first saw her son's body—the scream she let out just went through me. It was not about the law or politics. It was just putting myself in her shoes.
What did you experience the first night you were in Ferguson, about two weeks after Michael Brown was shot?
We parked about a mile outside of the town and we walked. There were police at the border of town. They were checking every car. We kept walking and then along the way we saw more and more police presence. First there were a few cops on the side of the road, and then a few more and then a few more. Then, cops with bullet-proof vests. Then, closer in, there were Humvees, tanks, and people protesting and marching. It was quite an overwhelming scene. Once we arrived in Ferguson, The overwhelming number of people were practicing peaceful resistance. But there was definitely anger toward the police. It seems that their massive presence only exacerbated that.
What would you say the rest of America is not getting from our internet and evening news reports?
I think most media is failing to show the beauty of people who live in Ferguson. They're not always reflecting the amount of strength that these folks have for bringing justice. Their resolve to protest and lament peacefully is beautiful.
When I went by the place where Mike Brown was shot, there was a woman on the side of the road who has set up a place for people to lament through art. She had set up a canvas, and had cut out words, and paints, and all of these kinds of things so that people could express themselves. There were kids from the community sitting around drawing. People were finding ways to help each other to participate in a healthy way.
Leonce Crump noted that Ferguson is shining a light on the systemic inequalities to which African-Americans have been subject for centuries. What kind of job has the church done addressing those inequalities up until now?
That's a good question. At the end of the day, we have to see ourselves as brothers and sisters.
Beyond politics, beyond all of the labels we wear and assign to each other—like liberal, conservative, Democrat, Republican or independent—we are all sitting at the foot of the cross. The first thing we have to do is get to that place.
Then when we start talking about race and equality, the church needs to put itself in the place of the person suffering.
How would I want my family, my child or my community to be treated in this situation? What if, God forbid, your child was in a situation where they were confronted by police? How would you want them to be treated? All parents have children who do stupid things. When that happens, how do you want your child to be treated and how do you want to be treated?
Then ask yourself whether the Brown family or the Martin family experienced that.
So, now apply this to your local context. Do you think there are people of color, African-American men, in your town or in your city who have been mistreated by a police officer, local police, or are struggling with issues of racial injustice? You can begin to pray and be present in that case. Have somebody do some homework to find out exactly how people are getting arrested in our town and how many of them are getting treated well in the process. Ask local police how many cars of African-American people are pulled over in a day, week or month. Is this proportionate to the rest of the population? You can get that information pretty easily and begin to pray about it and begin to challenge the local municipality about some of those things. It doesn't have to stay in St. Louis. It can come home locally.
But Leroy, when you ask whether folks think people of color have been mistreated where they live, what about white Christians who really don't have relationships with African-American brothers and sisters? How would they know that?
I think that is a bigger situation and problem. It actually speaks to the system that was in place before we got here. When we live in separate places, and don't have relationships with each other, how do we begin to do that?
For starters, read books that will educate you about brothers and sisters of different races and colors. Also, most people will come across people of color, at work or at a social event. At some point you can reach across the aisle and engage someone else who is not like you. Because by having a conversation with someone who is not like you, you'll discover some real practice ways to pray and connect again.
In a moment like this, I think there are a lot of people who just don't even know to pray. How do we pray in the midst of this?
First, pray for a family that has lost their son. A mom was sitting on a street corner looking at her deceased son laying there in the street—some reports say she was there for hours. So, you can pray for the family that has endured this suffering.
Pray for any children in the community who were around at that time. You can pray for a kid who had nothing to do with this, but who walked by that scene.
You can pray for families and dads who are raising boys in the midst of this difficult reality. These are parents who train their boys what to do when—not if—they are stopped by a police officer: "Don't escalate the situation. Answer questions respectfully. Keep your hands visible. Speak in a low calm voice." Pray for these families.
Finally, pray for a community that was struggling with issues of economic injustice and educational injustice before this even happened. After all the legal proceedings have ended, after the media has left, you are still left with a community that needs to engage with other issues of justice.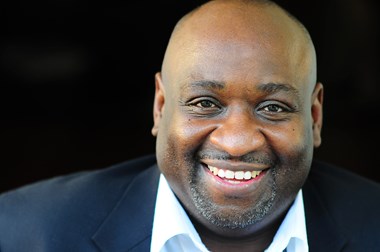 Leroy Barber is an ordained Christian minister who has dedicated more than 25 years to eradicating poverty, confronting homelessness, restoring local neighborhoods, healing racism, and living what Dr. King called "the beloved community." Leroy is currently the Global Executive Director of Word Made Flesh, an international organization that works among the most vulnerable of the world's poor. His latest book, Red, Brown, Yellow, Black and White: Who's More Precious In God's Sight? with Velma Maia Thomas (FaithWords/Hachette Book Group, 2014) comes out in September.
Interview by Margot Starbuck, author of many books, including Not Who I Imagined: Surprised by a Loving God. Connect at MargotStarbuck.com or on facebook.
This post is one part of a three week series exploring race and reconciliation within the church. To read the entire series, click here.
Support our work. Subscribe to CT and get one year free.
To add a comment you need to be a registered user or Christianity Today subscriber.
Recent Posts
On the Ground in Ferguson