Weekly Roundup 2.14.14
Novels, non-fiction, medical marijuana and more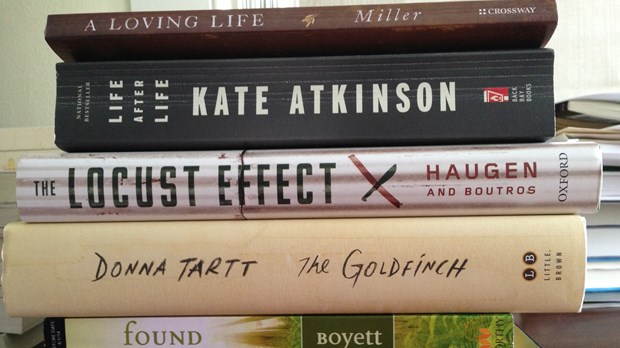 If your bedside table looks anything like mine, it holds a stack of books that continually threatens to tip over. So every week, I take a minute to give you a peek into the books I'm currently enjoying, as well as a list of articles on faith, family, disability, and culture that might be worth your time.
On the book front, I'm in the midst of an intriguing novel, Life After Life by Kate Atkinson, in which the main character dies and is reborn (as herself, into the same time and place) again and again. Set in England during the first and second world wars it offers both a historical perspective on these events and a philosophical question about the turns our lives take and how whole lives can be altered as a result of individual choices. Maybe it will turn out to be a literary version of It's a Wonderful Life.
I'm also really grateful for Paul Miller's new book, A Loving Life: In a World of Broken Relationships, a meditation on the nature of sacrificial love through the lens of the Biblical book of Ruth. Well-researched but also written in an engaging style, Miller once again has both challenged and encouraged me to understand God's love for us and the ways we can love others in a deeper way.
Next up is Donna Tartt's The Goldfinch, Gary Haugen's The Locust Effect: Why the End of Poverty Requires the End of Violence, and a sneak peak at Micha Boyett's forthcoming Found: A Story of Grace, Questions, and Everyday Prayer
What's on your bedside table?
And if you're looking for shorter fare, here are some articles that I appreciated this past week:
Faith and Culture
Karen Swallow Prior did a great job for her.meneutics as she questioned why we care so much about physical appearance and the true nature of beauty: We Can't All Be Beautiful. As Karen writes, "Why does our obsession with self acceptance focus so much on appearance?"
In an essay for the New York Times, Roy Hoffman reflects upon the nature of faith and the ways his interactions with many Christians has encouraged him to return to his Jewish roots: "Finding my way back to religion, I find some prayers are composed in the sanctuaries of my making." Remembering to Pray
Steve Rabey writes for Onfaith about the Christian families seeking out medical marijuana for their kids with epilepsy in Pot Pilgrims. Christian families flock to Colorado for kids' Medical Marijuana.

Ellen Painter Dollar reflects upon Philip Seymour Hoffman's death and her own use of prescription pain medication. She takes it beyond the breaking news story to a theological truth:
perhaps the only thing absolute and eternal is God. Even the other things we think of as absolute and eternal, like love and joy, can look quite different depending on who we are and what is happening in our life. Love can look like welcoming the prodigal son back with open arms, and it can look like allowing the rich young ruler to walk away in distress. Joy can look like a breakfast feast on the beach after Christ's resurrection, and joy can look like a widow who gives the last coin she owns even though she doesn't know where her breakfast will come from.
Disability and Family
An article from the New York Times profiling a family who decided to use preimplantation genetic diagnosis to choose embryos without a debilitating genetic disease.
Mark Leach addresses the question of whether ultrasounds affect decisions to abort: Abortion in the News.
Mark Oppenheimer reflects on research that demonstrates that "fervent faith cannot compensate for a distant dad" but dads who model love and faith affect their children for generations to come.
Happy Reading!
Support our work. Subscribe to CT and get one year free.
To add a comment you need to be a registered user or Christianity Today subscriber.
Recent Posts
Weekly Roundup 2.14.14