Searching for African American Protagonists
Why I want my kids to read about lives that seem different from theirs.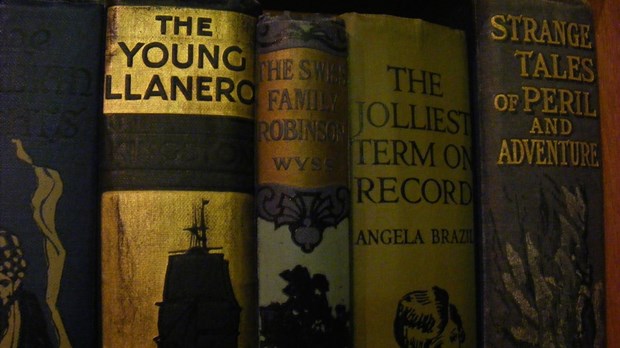 Image: Mike Mantin/Flickr
We've been reading chapter books with our two older kids—Penny, now 8, and William, nearly 6—for a few years now. We generally stick to the classics: Winnie the Pooh, Charlotte's Web, The Lion, the Witch, and the Wardrobe, Little House on the Prairie, Pippi Longstocking, Charlie and the Chocolate Factory, to name a few.
But recently it struck me that we have never read a chapter book to our children with an African American protagonist. We have a smattering of picture books with African American boys and girls as the central character (Corduroy and The Snowy Day being two of my kids' favorite books of all time), but no chapter books. I started to wonder why.
First I assumed the scarcity demonstrated a sort of passive racism from years gone by. After all, we were reading books from fifty or sixty years ago. Just as adult classics tend to feature Caucasian protagonists, I might expect the same to be true for kids' books. Still, I was an African American Studies minor in college, and I know that the material poverty and oppression under which many African Americans grew up did not prevent a trove of magnificent books, including Their Eyes Were Watching God, Invisible Man, Go Tell It On the Mountain, and Native Son, just as a start.
So I went to the library to begin my quest for a classic chapter book about an African American family that seemed like it might suit my children (which is to say, it needed to have some illustrations along the way). I found some contemporary ones and some suited for older kids, but only one that fit my bill: Sounder by William Armstrong. I decided I should read it first. It is a beautifully written story about a boy whose father steals a ham. The next morning, the sheriff hauls him off to prison and he then goes to work doing manual labor for years and years. The boy and his mother and little siblings keep the family going, and eventually the father comes back, maimed and limping. He dies soon thereafter.
The book contains hope—the mother holds on to faith in the Lord and sees her husband's death as a merciful way for him to rest in God's arms, and the boy learns to read, which opens up the possibility of a different life for him in the future. Still, cruelty, oppression, and injustice course through this novel, and I put it down with a hollowed out feeling at the stark and tragic existence of this family. I decided Penny and William aren't ready for it yet.
So I turned my attention to contemporary books. Here I have had more success, although I also learned (from a CCBC report) that of the 3200 children's books published in 2013, 93 were about African American characters. The data bears repeating: 93 out of 3200 books centered upon African American characters. No wonder they were hard to find. Still, as I asked some elementary school teachers and fellow parents for recommendations, I received a number of suggestions. Some, again, were too old for my kids but I will keep them on hand for a year or two from now. Many contained non-white protagonists but not African Americans. And almost all of them were pitched as books about non-white people to be read by non-white people.
I understand the importance for children of color to read books about kids who look (and talk and live) like them. Walter Meyer (a recently deceased and highly acclaimed writer of YA books with African American characters) wrote for the New York Times in March (Where Are the People of Color in Children's Books), about his experience as a child when he realized that all the books he read had white protagonists:
…there was something missing. I needed more than the characters in the Bible to identify with, or even the characters in Arthur Miller's plays or my beloved Balzac. As I discovered who I was, a black teenager in a white-dominated world, I saw that these characters, these lives, were not mine. I didn't want to become the "black" representative, or some shining example of diversity. What I wanted, needed really, was to become an integral and valued part of the mosaic that I saw around me.
I suspect it is for exactly this reason that websites like The Brown Bookshelf exist—to point parents and teachers and librarians towards books that portray children of color and are written with children of color in mind. I certainly applaud that effort. And yet for my kids—my educated, privileged white children—these books matter too. They matter because books are one way for my children to learn what it means to see the world through another person's eyes. Compelling stories offer them a way to envision a world other than their own, whether it is a world of different sights and smells and sounds like a bustling city, or a world of hardship and injustice, or a world of friendship and family that seems much like our own, yet with people who have different ancestors and a different skin tone.
In other words, children with brown skin need these books. My kids do too.
I'm still searching for the right place to start with my kids, and later this week I will offer a list of some of the suggestions I've received for chapter books with African American protagonists. For now, I will continue the search for books that help us all learn and remember that despite our differences—cultural, racial, social, religious—stories can bind us together.
Support our work. Subscribe to CT and get one year free.
To add a comment you need to be a registered user or Christianity Today subscriber.
Recent Posts
Searching for African American Protagonists